Use "color echoing" to lead your eye through your garden, said Stephanie Cohen, during a conference for garden enthusiasts March 9.
"Don't be plant segregationists," she said.
"One of this and one of that makes for a poorly designed garden."
Cohen demystified perennial garden design for the nearly 400 people attending the conference, which was sponsored by the plant science department's ornamental plant extension team.
Cohen taught herbaceous plants and perennial design at Temple University for more than 20 years. She is a contributing editor for Fine Gardening and the HGTV Newsletter and writes for Country Living Gardener and American Nurseryman.
Known on QVC TV as the "Perennial Diva," she also co-authored The Perennial Gardener's Design Primer.
When planning your perennial garden, Cohen advised, "leave space for impulse purchases. You often go to garden centers and see something you can't live without, and then ask yourself, 'Where am I going to put it?'"
She said there's a "jet lag" between summer and fall, so annuals need to be planted. She said to paste labels in a book to easily identify what has been planted.
"And don't line up plants like soldiers," she added. "We want them to associate with other plants and be friendly."
Form is important when planning a garden, Cohen said.
"Eighty per cent of perennials are daisies. Use a different shaped flower to contrast with the daisies, to move your eye through the garden.
A black-eyed susan and a pointy grass make a good pair.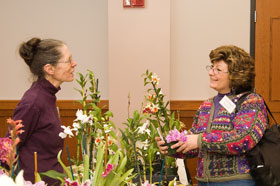 Donna Ryan of Avon, right, and Judy Becker of Salisbury discuss how to grow orchids, during a conference for Garden Enthusiasts March 9.
Photo by Dollie Harvey
She said a successful garden should have texture. Since perennials only bloom for three to four weeks, gardeners must consider what they will be looking at the rest of the time: foliage.
"Use different textures of foliage or your garden will look like a wheat patch. A good pair would be green hostas with big leaves paired with iris. She said any big foliage against fine texture is eye-catching.
She advised against the "ring around the collar approach," showing a slide of a tree with flowers planted around it. "Don't do this around every tree in your yard. Use ground cover."
Cohen said not to put the brightest colors at the edge of a garden because "it takes your eye out of the garden. Be careful if you're going to mix colors, because it will be a colorful garden or a migraine headache."
Use the color green, she said: There are lots of shades and hues. Yellow flowers or foliage will lead your eye through a garden. Pay attention to shaded areas, to avoid a "black hole." Yellow foliage or white flowers will pop in the shade. Red should be used sparingly to avoid color saturation.
When positioning plants, consider the color of your house, Cohen said.
"It's part of the scheme. If you're working with an island bed, place plants so you can see them all. Also, remember scale: Two inch plants next to tall arbors don't work."