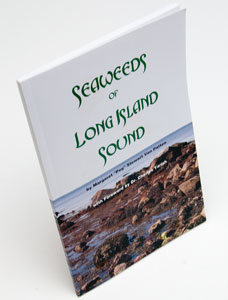 There is an organism in Long Island Sound which provides habitat, food, and shelter for many aquatic animals. It is used in commercial food products, such as ice cream, tooth paste, fruit, and cheese fillings; and is used in dental impressions and coating for paper and fabric.
Some people think of it as "slimy stuff," but the proper name is seaweed.
Margaret "Peg" Stewart Van Patten, communications director for Connecticut Sea Grant at the Avery Point Campus, has written a new book on the subject.
Seaweeds of Long Island Sound, Van Patten introduces the public to the different types of seaweed in Long Island Sound.
The book has 162 colorful pictures and simple explanations of what the seaweed looks like, where it can be found, and when to look for it.
The book has few scientific terms. It is divided into sections on green, brown, and red seaweeds, and it explains how to collect and preserve the plant.
Available through the Connecticut Sea Grant website, www.seagrant.uconn.edu, the publication is free for kindergarten through 12th-grade educators.
For others, it costs $4, plus $2 shipping and handling. The project was funded by the U.S. Environmental Protection Agency's Long Island Sound Study, Connecticut Sea Grant, and the Connecticut College Arboretum.