The blood pressure reading taken in the doctor's office has always been the "reading of choice" for most physicians.
But a new study authored by the Health Center's Dr. William White may change that.
White, chief of the Division of Hypertension and Clinical Pharmacology at the Pat and Jim Calhoun Cardiology Center, found that 24-hour ambulatory blood pressure monitoring is an accurate and consistent way to record a patient's "true" blood pressure, as well as to assess the effects of drug therapy.
Ambulatory monitoring requires patients to wear a small device (the size of an iPod) that automatically records their blood pressure throughout the day and night.
Thirty percent of Americans have high blood pressure, White says.
The research, recently published in the American Heart Journal, is the first clinical trial in hypertension using ambulatory blood pressure monitoring that was entirely community-based.
"Most clinical trials are conducted in the ivory towers of academia, but what happens in those clinical research units may not always represent 'real world' blood pressure data," says White.
"This study is unique because we recruited 600 community physicians from across the country and involved nearly 2,000 patients with high blood pressure."
The study tested the effectiveness of a popular blood pressure drug by recording patients' blood pressures before and after taking medication for up to 10 weeks.
Measurements were taken in the doctor's office as well as with an ambulatory blood pressure monitoring device.
The researchers found a significant difference between the two readings. The 24-hour monitor, which obtains an 'unbiased' reading, recorded an average 24-hour reduction in blood pressure of 12/8 mm Hg.
In contrast, the blood pressures taken in offices fell by an average of 24/15 mm Hg.
"Readings in the doctor's office are always susceptible to observer bias," says White.
"Often because a nurse or physician thinks the patient is already on an appropriate medication, they automatically hear a little lower than reality when taking a blood pressure reading."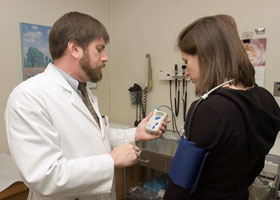 Dr. William White, chief of the Division of Hypertension and Clinical Pharmacology, demonstrates a blood pressure monitoring device at the Health Center.
Photo by Peter Morenus
Yet that bias can spell trouble for a patient if the drug isn't actually working as effectively as it should.
White has been interested in the vagaries of blood pressure monitoring since he started the Health Center's hypertension program nearly 25 years ago, when patients were just beginning to use home devices to measure their blood pressure.
"I always wondered how to quantify the true blood pressure value when healthy-appearing hypertensive patients would come in and show me 10 home readings that were normal, yet my measurement in the office was substantially elevated."
Out-of-control blood pressure can lead to serious cardiovascular problems, such as heart failure and stroke. That's why diagnosing and correctly monitoring the effectiveness of medications is crucial.
"If you're taking a medication that wears off after 18 hours, over time that can have clinically worrisome consequences," says White. "A 24-hour blood pressure monitor can help us judge whether we need to adjust or change a patient's medication."
The device weighs eight ounces, can be entirely concealed under clothing, and measures a patient's blood pressure 100-150 times over a 24-hour period.
White believes the 24-hour monitor could become the primary measurement for doctors and researchers who want to evaluate how effectively an antihypertensive medication is working.
"It's a little more complex and costs more money, but if someone is interested in how a drug works, how long it works, and how well it works in different categories of patients, this is a much more accurate way of doing that," he says.
White also thinks the FDA and other regulatory agencies are interested in the data provided by the 24-hour monitor because it's more reproducible and less biased.