Of the 2.3 million people now incarcerated in the United States, more than half were drug users before becoming inmates.
But less than 18 percent received treatment in prison, even though research has shown that drug treatment plays a crucial role in preventing a return to prison.
"Even when prisoners are motivated to stay clean, the odds are against them," says Linda Frisman, a research professor of psychology at UConn.
"They may have good intentions, but after they leave prison, and before they make their first appointment at a drug facility in the community, they relapse.
"They don't realize how vulnerable they're going to be to the social and environmental pressures of the community when they are released," she says.
"They tend to end up using drugs again, giving up, and saying, 'I'm not going to make it.' There are high relapse rates within the first couple of weeks."
She hopes her research will make a difference.
Frisman is working on two studies that involve Connecticut prisoners: The Transitional Case Management Study (TCM) and the Step'n Out project.
Funded by the National Institute on Drug Abuse, these criminal justice drug abuse treatment studies bring together research centers at Brown, the University of Delaware, the University of Kentucky, and the University of California at Los Angeles.
Frisman is principal investigator for the Connecticut research center. The aim of TCM is to test a model where a case manager works closely with individuals who have had substance abuse problems before incarceration, have received treatment while in prison, and are soon to be released.
Prisoners from Enfield/ Somers, Niantic, and Cheshire, as well those from work release programs in New Haven and Middletown, are randomly assigned to the study.
"The case manager conducts an assessment of the individual that is strengths-based – helping the person identify everything he or she is good at," Frisman says. "For example, 'I'm a really good worker when I have a job,' or 'I have a good relationship with my family.'"
The prisoner and case manager develop a detailed plan and develop goals and work together intensively for three months.
"The two keep track of how the person is doing in terms of getting a job, reuniting with the family, going for drug treatment, or getting an education," says Frisman, who is also director of research at the state Department of Mental Health and Addiction Services.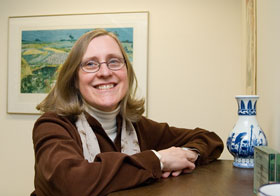 Linda Frisman, research professor of psychology, at her office in Hartford.
Photo by Dollie Harvey
The big goal of TCM is to prevent prisoners from relapsing when they walk out the door, she says, "because that's when they're at great risk."
The Step'n Out study involves parolees who are drug abusers. An evaluation upon their release from prison has determined that they need to be in treatment, Frisman says.
Parolees are randomly assigned to Step'n Out, where the parole officer and a treatment counselor regularly meet with the parolee, create goals, note progress, and give rewards to the parolee for making progress.
"A goal might be to get a job," Frisman says. "So the parolee might have to circle ads in the newspaper before their next meeting."
"We don't give things like a Sony Walkman," she says.
"Instead, we give them work boots, so they can get a job. Or if they're trying to reconnect with their children, we might give them a movie pass to take their kids to a movie.
"One parole officer offered as a reward to call a parolee's family to tell them how well he was doing," Frisman says.
"The parolee was in the room while the officer spoke to his mother: 'He's still clean, he's meeting his objectives, and I'm proud of his progress,' said the parole officer. The parolee was almost crying."
Although it is still early in the research project, Frisman says she is hearing that small rewards have a lot of meaning.
"We're also seeing that the close relationship the parole officer has with the treatment counselor benefits everyone," she says.
"The parole officer who is part of these interventions knows more about what's going on with the parolee, and develops a better understanding of the nature of slips that happen in the course of recovery for addiction problems."