One of the first points that art history professor Bette Talvacchia makes to her students is this: "When you look at a piece of art, don't expect to automatically understand it.
"You can say you like it, you can say you don't," she adds.
"But that's different from understanding what's there, knowing the reasons why it was created, or what function it had in a particular culture."
That's what historical study does, she says.
An acclaimed scholar in Italian Renaissance art, Talvacchia is a 2005 Board of Trustees Distinguished Professor. The honor is given for exceptional distinction in scholarship, teaching, and service. Recipients hold the title for life.
One of Talvacchia's research interests involves examining the use of sexual imagery in religious paintings during the Renaissance (15th and 16th centuries). The research is an outgrowth of her 1999 book, Taking Positions: On the Erotic in Renaissance Culture, in which she examines a notorious set of graphic sexual images.
The book, published by Princeton University Press, received accolades from the New York Review of Books, and was recognized as one of the 10 best art history books of the year by the Apollo art journal.
While she was working on the book, Talvacchia became increasingly interested in the sensual and eroticized imagery used in religious artwork.
"It was fascinating to see the ways in which the culture approached the use of the body as an image and what they deemed as appropriate for works dealing with religious subject matter," she says.
"In Renaissance culture, the body and the spirit were seen as a continuum.
"That's a strange concept for our culture," adds Talvacchia.
"We separate the carnal from the spiritual. But during the Renaissance, a beautiful figure in a religious painting would lead the viewer to seek out spiritual beauty and spiritual understanding."
Her work explores how sexual motifs were employed suggestively, symbolically, or metaphorically in religious images.
Talvacchia, who says she loves to lecture on her work, will present a talk on Saint Sebastian at the Renaissance Society of America conference this month.
She selected him as the subject for discussion because "he is usually nude, and everyone wonders what this kind of figure is doing in a religious image. I hope to give an explanation for that."
Research is often like detective work, says Talvacchia, who often finds herself examining documents, letters, and even poetry.
"You never know what little gem you might find," she says. "And that bit of information forces you to ask other questions."
Talvacchia, who came to UConn in 1981, earned her doctorate in history of art from Stanford University.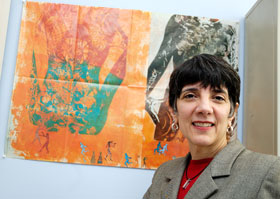 Bette Talvacchia, professor of art and art history and Board of Trustees Distinguished Professor.
Photo by Melissa Arbo
She has been awarded fellowships from prestigious scholarly institutions, including the Institute for Advanced Study at Princeton; the Center for Advanced Study in the Visual Arts at the National Gallery of Art; the Metropolitan Museum of Art; and the Fulbright Program.
She also was the Robert Lehman Visiting Professor at Villa I Tatti, the Harvard University Center for Italian Renaissance Studies in Florence, from 2002 to 2004.
At UConn, Talvacchia has developed and taught innovative interdisciplinary courses, including "The Artist and Society," and "Michelangelo as Paradigm of the Renaissance Artist."
Last semester, she taught a new course on gender issues in Renaissance art that she developed for the Honors Program.
The study of art history is a new experience for many students who have grown up on video games and the Internet, but Talvacchia says it's not hard to deal with.
"There are a lot of options one can take advantage of in terms of technology, but it basically comes down to the particular material you're teaching, no matter how you present it. I think this cultural heritage that we have as a world is so exciting that once you get the students' attention, you're going to win them over.
"While it's true that our culture today has many of these visual components," she adds, "it doesn't mean people are using them in an exciting way, or thinking about them deeply, or are open to understanding them."
Talvacchia hopes to change that.
"I try to help students learn how to respond to visual stimuli," she says, "to teach them how to interpret what they see, and understand how images function. Students can apply it to a painting on the wall that's 500 years old or to a digitized image on their video screens. It's a way of thinking and approaching material with endless applications outside the particular study."
Talvacchia says she would like her courses to enrich students' lives, and help them feel comfortable visiting museums.
"Some say art is a reflection of its culture," she says. "But that's not enough. Art doesn't just passively reflect culture: It engages it. It helps create it. And those are the things that all art historians would like their students to have access to and learn about."
Talvacchia has written a monograph on Raphael that presents a new interpretation of the artist.
The book, due out this year, is published by Phaidon of London, as part of a series called Art and Ideas.