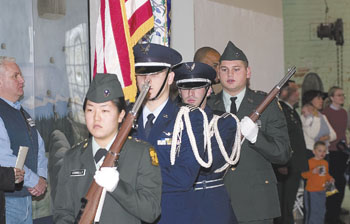 A Veterans Day ceremony was held Nov. 11 at Hawley Armory. In the procession, left to right, are Army ROTC Cadet Lauren Connelly, Air Force ROTC Cadets Tim Juselis and Stephen Smith, and Army ROTC Cadet Seth Mastrocola.
Photo by Jordan Bender
November 28, 2005 ¦ Volume 24, No. 13
Health Center's Runowicz now heading American Cancer Society
Dr. Carolyn Runowicz, director of the Carole and Ray Neag Comprehensive Cancer Center at the Health Center and a nationally prominent expert in gynecologic oncology, became President of the American Cancer Society.
Gladsteins commit $1 million for chair in human rights
The latest in a succession of gifts by two long-time University supporters, Gary Gladstein '66 and his wife Judith, has established a faculty chair in human rights in the College of Liberal Arts & Sciences.
Pathobiology lab is Northeast's first line of defense against avian flu
None of the samples taken from migratory waterfowl, live-bird markets, poultry farms, and backyard flocks in Connecticut has yet tested positive for the deadly strain of bird flu virus being reported in Asia and Europe, according to UConn scientists.
Events planned to mark AIDS Awareness Week
The University community will mark this year's World AIDS Day on Thursday, Dec. 1, with a full week of awareness activities organized by the broadest range of campus sponsors to date.
More headlines...