The latest in a succession of gifts by two long-time University supporters, Gary Gladstein '66 and his wife Judith, has established a faculty chair in human rights in the College of Liberal Arts & Sciences.
The $1,000,000 endowment, which is funded through the Marsha Lilien Gladstein Foundation, augments the couple's previous support for human rights programs at UConn, including a visiting professorship and operational funding for faculty support.
"Lack of awareness and respect for the human rights of others, whether in a social, financial, governmental, or educational context, continues to be a major problem in the world today," says Gary Gladstein, former chief operating officer at Soros Fund Management in New York who is now a senior consultant for the firm. "We see the opportunity at UConn to raise awareness of the student body and faculty to numerous human rights issues present in our society."
The first holder of the Judi and Gary Gladstein Chair of Human Rights is Richard A. Wilson, a professor of anthropology and a noted international scholar in the study of human rights. Since joining the UConn faculty in 2003, Wilson has directed the University's Human Rights Institute. In addition to hosting a major international human rights conference each year, the Institute coordinates the study of human rights at the University, and promotes multidisciplinary research on human rights issues in social sciences, humanities, and law.
Wilson recently published an edited collection called Human Rights in the War on Terror, based on the Institute's inaugural conference in 2004. He is also author of works on political violence and social movements in Guatemala, and has written a monograph on the South African Truth and Reconciliation Commission.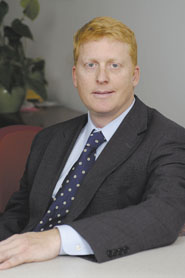 Richard Wilson, Gladstein Chair-holder in Human Rights.
Photo by Kim Bova
"At the Human Rights Institute, we have been working hard over the past two years to establish UConn as an international center for the study and teaching of human rights," says Wilson.
"The generosity of the Gladsteins allows us to take our work to the next level. We are immensely grateful for their support."
Says Gladstein, "Judi and I believe that Richard Wilson has made a tremendous impact on UConn's human rights programming. His leadership and creativity continue to impress us."
A previous gift by Gladstein created the Marsha Lilien Gladstein Visiting Professor of Human Rights, to bring leading human rights scholars to campus each year.
"Gary and Judi Gladstein have been a driving force behind the development of human rights programs at UConn," says John Martin, president of the UConn Foundation.
"This significant gift further elevates the University's international profile in this important field of study."