Members of West Hartford's Old Guard Inc., have adopted the Health Center's new Medical Arts Building as their site for volunteer service.
West Hartford's Old Guard is an organization for retired business and professional men that foster volunteer service, community involvement, and other activities. It has 300 members.
"We wanted to identify an organization and an area that we could call our own," says Peter Lind, chairman of the volunteer committee for the Old Guard, who along with committee members Mark Tenney, Walter Greenfield, and Dick Harris, selected the Health Center.
Patricia Verde, head of volunteer services, says, "The timing was just right. They wanted to find a place where they could volunteer as a group in an area that would be their responsibility.
And the new Medical Arts Building was the perfect fit."
"It's very exciting being in a new building, with something new always coming up," says Lind, who graduated from the University in 1950 and was captain of the basketball team during his senior year.
"We don't just sit at the desk; we're proactive. We keep an eye on the parking lot to see if anyone's using a wheelchair, and then we'll run out and help, and we look for ways to offer help and assistance to patients coming and going.
"We hear many interesting, individual stories, and people tell us they appreciate our efforts. It's not much different than running a business," adds Lind, who was a vice president at Aetna before retiring.
Guard volunteer Ted Thomas says as the facility gets busier and busier, the volunteers' work becomes more and more important. Of late, he says, about 200 patients have been coming in for appointments each day.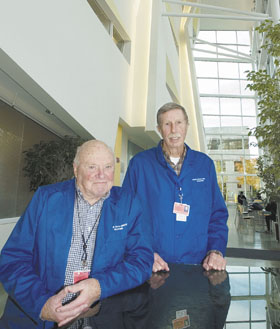 Volunteers Ted Thomas, left, and Peter Lind '50 at the Medical Arts Research Building at the UConn Health Center.
Photo by Peter Morenus
"Some of the patients have serious problems and it's sad to see some of their difficulties," Thomas says. "But we stay positive and try to send them off in good spirits when they leave."
The Old Guard group volunteering at the Medical Arts Building consists of 32 members, who work on rotating schedules of two- man teams in four-hour shifts. They staff the building's welcome desk, directing patients and visitors to clinics and services throughout the four-story building.
"With their professional, gentlemanly appearance and demeanor, they make a wonderful first impression," says Verde.
Although the Medical Arts Building is their special location, she adds, Old Guard volunteers are helping out at the Health Center's Discovery Series programs and Red Cross blood drives as well.
The men completed volunteer training earlier this year that included orientations, tours, policy information, and health screenings.