UConn's regional campuses, the schools of law and social work, and the UConn Health Center are joining the wireless revolution.
During the next six months, staff from University Information Technology Services will be installing wireless devices in common areas at all the campuses, giving students, faculty, and staff the ability to surf the web or send e-mails without connecting their laptop computers to a hard-wired system.
A number of areas on the Storrs campus have been available to wireless users since last year.
At the Health Center, wireless areas were activated in September at the John Dempsey Hospital (JDH), to provide a value-added service to patients and visitors. The sixth floor cancer treatment area and the Neag Cancer Center off the main hospital lobby are the hospital's primary pilot areas.
Wireless service at the Health Center will be free. To bolster use, five lower-end laptops were purchased and will be available to patients. Nurses will loan out the laptops as needed.
"We want people to use the system," says Jonathan Carroll, assistant vice president for information technology.
"We're extremely excited by this opportunity and we hope that this program is a success," he said. "In today's world, the ability to be connected while away from the office has almost become expected.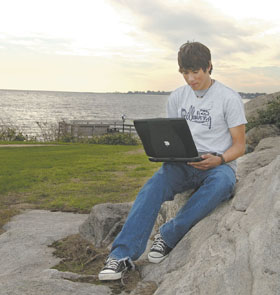 A new volcano in the Afar region of Ethiopia that erupted for the first time this fall.
Photo supplied by Tony Philpotts
Whether the user is a patient or a visitor, JDH Link will provide this capability."
Work on the regional campuses is currently underway in Torrington and Waterbury, where information technology workers are upgrading the campus computer networks.
They expect to have wireless areas operating by the end of December.
Wireless areas will be available at the UConn Law School and Stamford Campus by the end of January; at the Avery Point campus by the end of March; and at the Greater Hartford Campus, including the School of Social Work, by the end of April.