Replete with blaring music, excerpts from animated TV series, and other pop culture references, David B. Miller's lectures are multimedia events that have earned him awards and accolades as a highly engaging faculty member.
During a recent class, Miller, a professor of psychology, selected snake photos from a science journal to highlight a presentation about mimicry and evolution. The photos showed a non-poisonous snake with similar coloring to a poisonous snake, that give it "an adaptive advantage by not being preyed upon."
"What I try to do is really engage the student," Miller says. "That's half the battle. Once you've got their attention, then you hit them with the important stuff."
Miller's enthusiasm for his subject and his students have earned the respect of his colleagues and have been recognized over the years with nearly every UConn teaching award, including his most recent honor last month, when he was presented with the 2005 UConn Alumni Association award for Faculty Excellence in Teaching at the Undergraduate Level.
"David Miller is widely recognized by his colleagues as an outstanding researcher and as a truly outstanding leader in our mission of teaching excellence," says Charles Lowe, chair of the psychology department in the College of Liberal Arts and Sciences.
Miller joined the UConn faculty in 1980, primarily to conduct bird research.
A decade later, a grant from UConn's Institute for Teaching and Learning provided some computer equipment and the impetus to change his approach to the classroom.
"It started with simple scanning of slides for an animal behavior course ... and sort of snowballed," Miller says, adding that he routinely upgrades the multimedia elements for all his courses.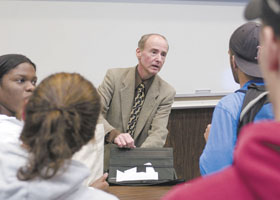 Psychology professor David B. Miller, who has received several awards for teaching, speaks with students after class.
Photo by Peter Morenus
Miller still keeps tabs on the avian world, as editor-in-chief of the scholarly journal Bird Behavior.
Miller's teaching methods are well known throughout the UConn community, says Lowe, thanks to the many workshops he has led on a variety of teaching methods during the past six years at the Institute for Teaching and Learning.
In his spare time, Miller is a rock 'n' roll enthusiast who sings and plays guitar for the faculty band Off Yer Rockers.
He teaches more freshmen each year than any other psychology professor.
He also participates in summer orientation sessions for freshmen, which he estimates allows him to meet nearly 90 percent of incoming students.
Although he's not sure of the long-term impact of the orientation sessions, Miller feels good about making the effort.
The influence he has on those who take his classes, however, is evident.
"David not only motivates interested students and students with outstanding potential," says Lowe, "he also motivates students to approach their potential."