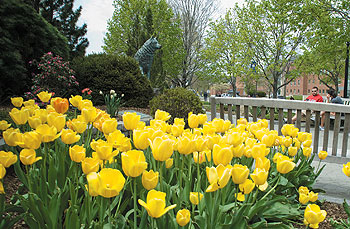 A spring day on Hillside Road, near the Husky Dog statue. Photo by Sean Flynn
Photo Extra
Bruce Cohen, director of the Counseling Program for Intercollegiate Athletes, reads from his newest collection of poetry, Disloyal Yoyo, at the UConn Co-op on April 20. Photo by Jessica Tommaselli
May 4, 2009 ¦ Volume 27, No. 30
Unions voting on state employee concessions
Representatives of the four largest labor organizations at UConn will join other unions from across the state on May 8 to share the results of local balloting regarding pay freezes and furlough days. Read more...
University offers information about swine flu prevention
As swine flu spread to at least 10 U.S. states and many countries around the world last week, the World Health Organization (WHO) raised its flu alert level to 5, the second highest level, indicating that the organization believed that a pandemic is imminent. Read more...
Forum held to discuss possible changes to Academic Calendar
More reading days for students before finals, a mid-semester break during the fall semester, and a large University-wide Commencement were among the issues on the minds of faculty during a public forum April 29 about the University's Academic Calendar. Read more...
Academic program changes approved by Trustees
The Board of Trustees has voted to approve a master's degree in financial risk management in the School of Business at the Stamford campus and to rename the Department of Plant Science. Read more...
More headlines...

Multimedia...

RSS Feed of the UConn Advance

News Links

UConn News | UConn Health Center News | UCONN Magazine Athletics News

How To...

Suggest a story idea: please send e-mail to advance@uconn.edu, with "Story Idea" in the subject line. Please give as much notice as possible, and at least two weeks. Requests will be considered based on relevance to a broad audience and the availability of resources.

Have an event listed in the Advance Calendar section: please enter it online at events.uconn.edu at least two weeks prior to the date of the event. Please note that the Advance Calendar contains only events occurring during the week beginning with the date of publication.

Request permission to re-use a story or photo: please send e-mail to advance@uconn.edu, with "Re-use Request" in the subject line.

Make a change to the mailing list, please send e-mail to advance@uconn.edu, with "mailing list update" in the subject line. Please note that the Advance does not maintain separate mailing lists, but uses the databases maintained by the human resources departments at Storrs and at the Health Center. If you do not have access to e-mail, please send your request in writing to Advance, University Communications, 34 North Eagleville Road, Storrs, CT 06269-3144, or by fax to 860-486-2063, or call 860-486-3530.