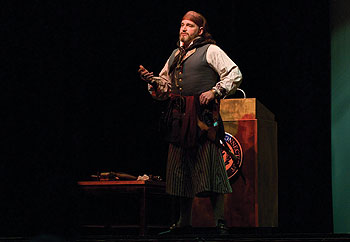 John McNiff of Free Men of the Sea, a living history re-enactment group, discusses the life of a pirate during the Golden Age of Piracy in the American colonies. The demonstration, part of Steve Park's First Year Experience course, took place in Jorgensen Center for the Performing Arts on Feb. 26. Photo by Frank Dahlmeyer
Photo Extra
Freshmen Kimberly Ellison, left, and Christina Panowicz dance during Huskython '09, a 24-hour dance marathon Feb. 21-22. The event raised more than $100,000 for Connecticut Children's Medical Center and the Children's Miracle Network. Photo by Jessica Tommaselli
March 2, 2009 ¦ Volume 27, No. 22
Budget woes force study of museums, Grad School
University President Michael Hogan, responding to budget cuts, has begun to explore the implications of curtailing the operations or closing the William Benton Museum of Art and the state Museum of Natural History/Connecticut Archaeology Center. Read more...
Managers face wage freeze, furloughs
University President Michael J. Hogan today informed UConn managers that their compensation in Fiscal Year 2010 will be reduced to offset anticipated reductions in state support. Read more...
New nonprofit leadership program offers first managerial skills course
People working in nonprofit organizations who would like to move up the career ladder can take a course that will help them do just that. Last fall, UConn's new Nonprofit Leadership Program in the Center for Continuing Studies offered its first course, Leading Nonprofit Organizations: A Learning Experience for Emerging Leaders. Held at the Greater Hartford Campus, the six-month, noncredit course is filled to capacity, with 20 students attending from around the state. Read more...
Health Center survey shows employees feel connected
Know Better Place, a workplace culture program in the UConn Health Center's human resources department, has announced the results of "engagement08," the Health Center's first employee engagement survey. Read more...
More headlines...

Multimedia...

RSS Feed of the UConn Advance

News Links

UConn News | UConn Health Center News | UCONN Magazine Athletics News

How To...

Suggest a story idea: please send e-mail to advance@uconn.edu, with "Story Idea" in the subject line. Please give as much notice as possible, and at least two weeks. Requests will be considered based on relevance to a broad audience and the availability of resources.

Have an event listed in the Advance Calendar section: please enter it online at events.uconn.edu at least two weeks prior to the date of the event. Please note that the Advance Calendar contains only events occurring during the week beginning with the date of publication.

Request permission to re-use a story or photo: please send e-mail to advance@uconn.edu, with "Re-use Request" in the subject line.

Make a change to the mailing list, please send e-mail to advance@uconn.edu, with "mailing list update" in the subject line. Please note that the Advance does not maintain separate mailing lists, but uses the databases maintained by the human resources departments at Storrs and at the Health Center. If you do not have access to e-mail, please send your request in writing to Advance, University Communications, 34 North Eagleville Road, Storrs, CT 06269-3144, or by fax to 860-486-2063, or call 860-486-3530.