Nine-year-old Calvin Morgan-White of Hartford is exactly the kind of budding mathematician who might once have been overlooked in school.
But thanks to a curriculum developed by M. Katherine Gavin, an associate professor-in-residence at the Neag School of Education, bright kids like Calvin are learning advanced math concepts such as algebra, geometry, and probability – skills often thought to be well beyond their years.
In a school system where too many students still struggle to catch up in math, promising third- and fourth-graders at four Hartford elementary schools are surprising even their parents with skills learned in after-school math enrichment clubs operated by Gavin.
"I find it amazing. I think it's a wonderful thing," Calvin's mother, Tamara Morgan, said at a recent family night math club meeting at Breakthrough Magnet School.
"It's all [Calvin] would talk about," she said. "He'd come home and do the work. He wasn't assigned to do it. He was just doing it because it was fun."
The clubs for gifted students started last spring at Breakthrough, Batchelder, Burr, and Noah Webster Schools with the help of a $150,000 grant from The Travelers Companies Inc. The company recently announced another $100,000 grant for the program.
"We have a special interest in supporting mathematics skills, as they relate directly to our business," says Tara Spain, Travelers' director of community relations.
The clubs are the outgrowth of a curriculum developed by a research team led by Gavin under a $3 million federal grant she received in 2002. Known as Project M³ (Mentoring Mathematical Minds), the curriculum produced significant achievement gains in field tests at schools in Connecticut and Kentucky.
Gavin, who is based at the Neag Center for Gifted Education and Talent Development, developed the project for children in grades three through five. Two years ago, her research team received another grant – $2.1 million from the National Science Foundation – for Project M² to create curricula for children from kindergarten through second grade.
Under Project M³, a key goal is to provide challenging mathematics to students who have traditionally not had this opportunity in their regular curriculum, "like the kids in Hartford," says Gavin.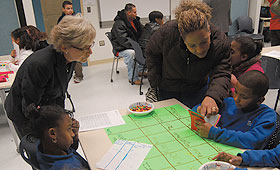 Professor M. Katherine Gavin, left, listens as eight-year-old William Amaro explains a math game to his mother, Prescilla Amaro, during family night at a math enrichment club at Hartford's Breakthrough Magnet School. Gavin leads a research team that developed the curriculum used by the after-school club. Photo by Robert A. Frahm
In the past, the focus in Hartford has been mostly on remedial programs and test-taking skills to help low-performing students catch up, she says.
"These [gifted] kids are beyond that, and they get left out."
Children are selected for the after-school clubs based on teachers' recommendations and an ability test.
"We're looking for kids with math talent potential," Gavin says. "Do they think out of the box? We're not looking for kids who are strictly good in computation. We want good thinkers, good problem solvers."
At the math club's family night at Breakthrough School, children demonstrated math games they had created, games with names such as "Magical Math Path," "Mathland," and "Volcano Island."
"I'm learning algebra," said fourth-grader Yazinda Baez, who played "Pink Math Jeopardy" with her parents. "I like doing the puzzles."
The games often required players to recognize patterns and develop math strategies. One of the questions in Yazinda's game was, "If I wrote my name Yazinda 67 times, what would the 158th letter be?"
"I think it helps kids think in different ways how to approach math problems," said Eliezer Baez, Yazinda's father. "They're not just dealing with numbers."
Calvin Morgan-White, the fourth-grader who takes his math club work home, likes the challenge. It's different from regular classroom assignments, he said. "The math we do here is advanced math," he said. "Once I tried doing it, it wasn't that hard."