When consumers buy meat in the supermarket, they want it to be red, not purple or brown, says Cameron Faustman. "We judge the quality of food on its appearance and have very set ideas about it, based mostly on what is taught to us by our parents. It's a hard thing to change."
He says he is often asked if red coloring is added to meat. It is not – and it's also against the law.
Faustman, a professor of animal science and associate dean of the College of Agriculture and Natural Resources, addressed some of the frequently asked questions about meat in a talk, "Why is there a Bag in My Turkey? – Meat 101."
The presentation, given Feb. 22 in the Biology/Physics Building, was part of a series on the natural history of food, sponsored by the Connecticut State Museum of Natural History and featuring mostly UConn faculty and staff experts.
When meat is first cut, it has a purplish-red color, he said: "If it sits out in the air, it will turn a brighter red, because meat and muscle contain myoglobin, a protein similar to hemoglobin. When it binds oxygen, it becomes nice and red."
Because consumers like meat that is red, and the red color is due to the presence of oxygen, meat is increasingly being sold in modified-atmosphere packages, Faustman said. It is packed in dishes covered with a thin layer of plastic film, which contain 80 per cent oxygen and 20 per cent carbon dioxide. Most of these packages are not produced in the local supermarket.
Consumers also like their salmon a certain color. "The color of salmon is due to carotenoid," Faustman said. "A carotenoid you're familiar with is beta carotene, which is what causes carrots to be orange. If you catch a wild salmon in Alaska, they'll be very red. They get their color by eating organisms that have the ability to synthesize carotenoids."
Salmon raised on farms without organisms to synthesize carotenoid will not have the color, he said, noting that the second most expensive element that goes into fish feed for farmed fish are carotenoids to make them pink. "That's what people want," he said.
Carotenoids are also used in poultry for coloring the yolk of eggs, and the fat and skin of fowl.
Faustman said meat can be defined as the skeletal muscle of an animal.
"But interestingly, there are other things that we eat that come from animals that are not skeletal-muscle based, and many of these are not particularly liked in our country," he said. Here, they're called 'variety meats.'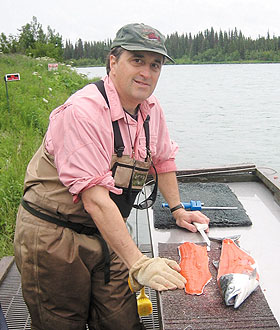 Cameron Faustman, professor of animal science, fillets a salmon in Alaska. Photo supplied by Cameron Faustman
"I've tried them all, and they're pretty good, if prepared right," Faustman said. Hog maws, for example – pigs' stomachs – can be served sliced in soy sauce.
"In Ireland, you have your Irish breakfast," he said. "When I was asked if I'd like pudding, I thought I was going to get good, old fashioned My-T Fine. But they brought Irish black pudding – black because it contains blood. Irish pudding is a blood sausage that's fried up in slices and accompanies your eggs."
He added, "We don't embrace variety meats in our country, but we do export a lot of them."
Faustman said the age of the animal influences the tenderness of the meat. When USDA graders go into a slaughter plant, they look at the carcass and the degree of ossification on the bone.
Pork comes from pigs that are six months old or less, so there's no tenderness issue, Faustman says. But beef and lamb are graded based on the age and the amount of marbling. "Generally speaking, highly marbled meat obtained from young animals is what you're looking for," he said.
Faustman is often asked about the content of hot dogs. "One of the common questions I'm asked is if hot dogs [contain] lips," he said.
"There are certain beef products in which they will add lips. One of the typical added ingredients in blood kishka, the traditional Polish sausage, is lips, but if they are added, they have to be declared on the label. Anything other than skeletal muscle meat that is added into a processed meat product must be labeled and identified as such."
Faustman also gave a brief history of food safety, and presented many examples of products purchased at local grocery stores that were preserved in different ways to ensure quality and shelf life.