A few days before a law school conference on whether rail travel can help revitalize Connecticut's cities, a reporter called the dean to ask what role the law could possibly play in the issue of railroad transit.
"That's a little like asking what role the mother plays in Freudian psychology," joked Jeremy Paul, dean of the law school, during his opening remarks for the February 20 event.
As Sara Bronin, an associate professor of law who organized the conference, later explained: the law plays an integral role in the expansion of rail travel, including property law such as eminent domain, employment, tax, workers' compensation, and bankruptcy law. It helps determine both how railroads are laid out and how they are operated.
Bronin said the law can be used "as a tool to transform our current rail system."
Exactly what an expanded rail system can do for Connecticut was the subject of this year's Gallivan Conference, which asked the question: "Can Rail Save Connecticut Cities?"
The panelists included Bronin; Joseph Marie, the state's transportation commissioner; state Rep. David McCluskey (D-West Hartford); and UConn civil engineering professor Norman Garrick, who also heads the University's Center for Transportation and Urban Planning. It was moderated by longtime Hartford Courant columnist and editor Tom Condon.
During his presentation, Marie gave an overview of the 18 new rail systems that have been created in the U.S. since 1984. Most of these are known as "light rail" – a service centered on the urban core of cities. He was previously involved in two: those in Minneapolis and Phoenix.
Marie said that most of these systems have seen higher ridership than expected and an increase in ridership in recent years – and not only when gas prices were sky-high. He also noted that in Phoenix, Saturday ridership of the light rail system exceeds even Monday through Friday commuter ridership. And in Dallas, property values have shot up along train routes for a half mile on either side of the railroad.
He said the long-term vision for Connecticut's rail system (and the region's) includes a line from New Haven to Springfield, Mass., from Waterbury to Hartford, and lines stretching to Providence, Rhode Island, and New Jersey through New York City's Penn Station.
His short answer to the question – can rail save our cities? – was "no," but rail could certainly go a long way to helping, he said.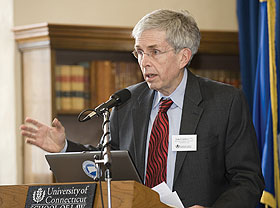 Tom Condon, longtime columnist and editor at the Hartford Courant, moderates a panel on rail travel in Connecticut at the Law School February 20. Photo by Spencer Sloan
Garrick, the engineering professor, argued that rail lines must be "place makers," meaning that railroads and their stations must be vital parts of urban areas. Treating rail as merely an appendage of the highway system will not do anything to revitalize cities, he said.
Ideally, people would live, work, and shop near the rail lines and stations. Too often, Garrick said, train systems are isolated from cities, rather than being an important part of their urban fabric. Stations that are far from downtowns will not do anything to improve cities.
He said that for too long, cities tried to remake themselves into mirrors of the suburbs: malls with vast parking lots accessible only by car and separate from housing. Now the urban malls of the 1950s, 60s, and 70s are closing, leaving empty space and vacant deserts of asphalt behind.
Rail – in concert with changes in local zoning and state-level design philosophies to allow mixed-use development – can help reverse this, Garrick said: "Rail realizes the centrality of cities."
From a public policy perspective, McCluskey, the state representative, said it's a problem that Connecticut is divided up into 169 cities and towns and 17 different regional planning agencies. He called for reducing that number, and for state and local authorities to work together to form a more collaborative statewide transportation policy.
"The time is right to break down the silos … in state and local agencies," he said, adding that Connecticut must also work with neighboring states in the region to meet transportation challenges.
"If it stops at the border," he said, "it's not going to do anything to rejuvenate our cities."
Garrick noted that the central question of the conference could be expanded.
The issue, he said, is not just whether rail can save our cities – but also, can our cities save Connecticut?