UConn's cultural attractions benefit state, report says
- March 2, 2009
This is the last in a series of excerpts printed in the Advance from a report by the Office of University Communications. The report, produced in conjunction with a study by Stanley McMillen, chief economist at the Connecticut Department of Economic and Community Development, outlines the many ways the University is vital to the state's economic well being.
The full report and fast facts are available at www.uconn.edu/uconnomy.
State residents and visitors benefit from the University's array of culturally rich attractions, such as museums, performance venues, and athletic events. In enhancing the quality of day-to-day life in Connecticut, the University also helps employers attract talented workers to the area.
Artistic exhibitions covering a wide array of subjects, media, time periods, and points of view are presented throughout the year at the William Benton Museum of Art on UConn's Storrs campus. The Jorgensen Center for the Performing Arts and von der Mehden Recital Hall, also in Storrs, host world-class performances in music, theater, and the performing arts.
More than 100,000 students, residents, and Connecticut tourists visit the Dairy Bar each year to enjoy dozens of flavors of UConn's own homemade ice cream.
Pride in UConn athletics – "Huskymania" – has drawn fans from across the state and region to attend games, boosting demand for UConn-branded products and encouraging corporate support.
UConn athletics annually draws more than 320,000 fans to Hartford's XL Center for basketball games and nearly 225,000 to East Hartford for Division I football at Rentschler Field. UConn's ability to attract fans has resulted in Connecticut's hosting NCAA women's basketball tournaments in Bridgeport in 2004, 2006, and 2008. In addition, Hartford has become the home of the Big East Women's Basketball Championship, thanks to the anchoring support of UConn fans.
Based at UConn's campus at Avery Point, Project Oceanology is a nonprofit marine science and environmental education center offering recreational and learning opportunities for children, tourists, and teachers. About 25,000 people a year experience the marine environment firsthand through a variety of programs and activities, including waterfront lab experiments and Long Island Sound cruises aboard Project Oceanology's research vessels.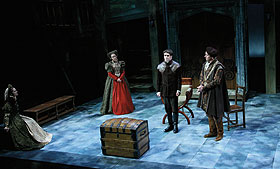 A performance of A Man for All Seasons by The Connecticut Repertory Theatre, the School of Fine Arts theater production group. Photo by Gerry Goodstein
With an ever-growing collection of more than 1,300 books written by Litchfield County authors, the nonprofit Litchfield County Writers Project at UConn's campus in Torrington enhances community and literary relationships with an exciting schedule of free readings, workshops, performances, and lectures each year. Author events have featured Frank McCourt, Candace Bushnell, and many others.

The Connecticut Repertory Theatre, the School of Fine Arts theater production group, presents traditional dramatic works along with musicals, new productions, and workshops, entertaining upward of 20,000 patrons annually.

The Connecticut State Museum of Natural History at UConn's main campus in Storrs serves UConn's students and faculty, K-12 educators, community groups, and the public with outreach activities, campus programs, and exciting exhibits that promote an understanding of New England's natural and cultural history.

With more than 2,000 puppets, the Ballard Institute and Museum of Puppetry in the School of Fine Arts holds one of the most extensive collections in the country. The museum provides educational exhibitions, tours, and programs for students, schoolchildren, and the community.

Through the Connecticut 4-H Youth Development Program, area youth participate in educational and recreational activities in community or camp settings, including clinics, contests, and special events sponsored by UConn's College of Agriculture and Natural Resources.

Connecticut-based vendors produce UConn-branded items sold in retail outlets throughout the state, from family-owned businesses to local outlets of national firms, generating income for businesses and state sales tax revenue. Demand for UConn consumables has expanded the line of UConn Husky products from tortilla chips and salsa to bottled water, chocolate bars, and other products manufactured, sold, and licensed by Connecticut companies.