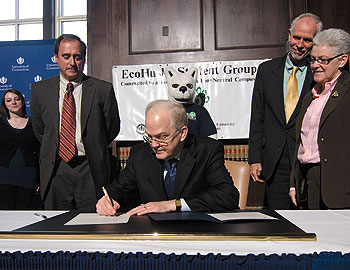 University President Michael J. Hogan signs the Presidents' Climate Commitment March 25, pledging the University to achieve carbon neutrality by 2050. From left are Kristin Sullivan, an undergraduate student representing ConnPirg, Rich Miller, director of environmental policy, Greg Anderson, vice provost for research and graduate education, and Gina McCarthy, Commissioner of the Department of Environmental Protection.
Photo by Frank Dahlmeyer
News Links
March 31, 2008 ¦ Volume 26, No. 25
Transfer students supported by new honor society
It's no secret that each of UConn's freshman classes since 1996 has been better qualified academically than the preceding class, including higher average SAT scores and better class rankings. It's less well known, however, that college students who have been transferring to UConn in recent years are highly qualified too. Read more...
Sirens to be tested April 2
The University will test the outdoor siren system at the Storrs campus only on Wednesday, April 2. The sirens are a component of the Alert Notification System. Read more...
Web site launched for anti-drinking campaign
Remember Last Night, a campaign dedicated to reducing college students' episodic heavy drinking behavior, began its spring push March 25, with the launch of its campaign web site. Read more...
Humanities event explores how artists challenge authority
The third annual Day in the Humanities on April 4 will explore how artists ranging from Renaissance painters to rappers have used their celebrity to challenge or celebrate the authority of the state. Read more...