Even as physicians at the Health Center's New England Musculoskeletal Institute are treating critical orthopedic problems, scientists there – including some of the same physicians – are working to come up with better treatment methods.
Hicham Drissi, director of orthopedic research, says the collective intellectual efforts of scientists and physicians working together will drive the advancement of science in the Health Center's orthopedic realm.
Drissi, who joined the Health Center last fall, says he quickly found himself surrounded by "icons in the bone and cartilage societies. UConn has a wealth of well-established intellectuals who have a strong track record in the musculoskeletal field."
Dr. Jay Lieberman, director of the New England Musculoskeletal Institute, also values scientific interaction.
"The concept is that by everybody being in the same building and having lab space right in the Institute," says Lieberman, "hallway 'collisions' take place that facilitate interaction between scientists and clinicians."
Orthopedic surgeon Dr. Augustus Mazzocca is the director of the Musculoskeletal Institute's Human Soft Tissue Research Laboratory. He and his team work with human tendon, bone, and stem cells from specimens discarded from surgery.
"We put them into culture and grow them," Mazzocca says. "Then we test various biomaterials, sutures, anchors with those primary cultures, and see how the cells respond to the implants."
The research continues in the biomechanics lab, where materials are tested for strength, durability, and functionality. When the science moves to the operating room, the patient outcomes are studied.
Researchers are tracking patients who have undergone a new procedure, developed in Mazzocca's lab six years ago, to repair shoulder separations.
Mazzocca also has been working on using stem cells for soft tissue repair.
"We study the cell biology of rotator cuff healing, study stem cell use to aid in its healing for faster return to sports and work, biomechanically evaluate surgical procedures to provide patients with the strongest, most durable repairs, and then look at how well we do with post-operative rehab," Mazzocca says.
Drissi says stem cells can be taken from a patient, minimally manipulated, and put back into the patient to serve as highly concentrated "progenitor cells," which contribute to better or faster healing.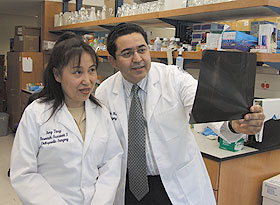 Hicham Drissi, right, director of orthopedic research, with research assistant Amy Tang in a lab at the Health Center's Musculoskeletal Institute.
Photo by Carolyn Pennington
He says stem cells are also effective in the treatment of osteosarcoma, the most common type of bone cancer.
Tumor removal involves also removing a piece of bone.
"That gap needs to be filled," says Drissi, whose primary area of expertise is cartilage research.
"Right now, pieces of bone from cadavers are commonly used. But these have their limitations, because they are not alive. No bridging is being formed. The use of stem cells would be highly advantageous."
Scientists in Drissi's lab analyze the genetic programming that commits stem cells to developing into other cells, such as bone or cartilage.
Another advance is the use of in-vivo (within the living body) CT scanning to track gene expression in research animals.
Lieberman is a pioneer in the field of regional gene therapy to enhance bone repair. His lab focuses on developing new methods to stimulate bone formation, including stem cell and gene therapy.
"The goal is to develop treatments to enhance bone and cartilage repair, and perhaps to treat bone metastasis, or cancer cells that migrate to the bone," he says.
The many aspects of orthopedic research include bone and soft tissue repair and regeneration, tendon healing, bone cancers, and biomechanics and bioengineering.
"Orthopedic research has evolved into a new era where we can use state-of-the-art cell and molecular biology combined with genetics to come up with models that mimic conditions of orthopedic problems," Drissi says.
The models sometimes enable a better understanding of the etiology of a disease, and sometimes help to prevent or correct a disease.