It's no secret that each of UConn's freshman classes since 1996 has been better qualified academically than the preceding class, including higher average SAT scores and better class rankings.
It's less well known, however, that college students who have been transferring to UConn in recent years are highly qualified too.
"They're an invisible population," says Deborah Rice, an associate director of admissions and one of five transfer admissions counselors.
"Transfer students are diverse. They come in at different times, and they can get lost in the crowd," she says.
"There's no profile information like we see with freshmen. They're hard to quantify, hard to classify. And until recently, they haven't had a lot of support."
That's now changing, however.
"We're building a solid support system for these talented students," says Dolan Evanovich, vice provost for enrollment management.
"We've added staff in the transfer admissions office, we've increased their advising, and we're evaluating their performance once they're here. We've also added a transfer student honor society.
"We have a lot of resources to help transfer students make informed decisions," Evanovich adds.
"And with the number of high school graduates on the decline over the next 10 years, it's in our interest to provide strong, seamless transfer opportunities to all students."
The national honor society, Tau Sigma, granted UConn a chapter last summer, making it the first public research university in New England to become a member. Last September, the chapter inducted its first 17 members, and elected Jeffrey Ticehurst as president.
Ticehurst is a junior from Brookfield, who transferred to UConn after his freshman year at Loyola College in Maryland.
"I really wanted to come back, and UConn has a better business program," he says. "Plus, there are more clubs and opportunities here than at smaller schools."
The group's second induction, which brought 36 more students into the chapter, took place on March 28 at the UConn Foundation building, with University President Michael J. Hogan as keynote speaker.
To be eligible for induction, transfer students must be enrolled full-time, have completed at least one year with an overall average of at least 3.5 at the college or university they're transferring from, and earn a 3.5 grade point average during their first semester at UConn.
That's not always easy, says Maria Sedotti, director of orientation.
"Research has shown there is a phenomenon called transfer shock, or slump," Sedotti says.
"There's quite often a decrease in students' GPA during their first semester at a new institution. They generally pick up again after that, when they know their way around the new school. So, if you see a 3.5-plus at a new school, that's really remarkable."
Sedotti raised the idea of starting a Tau Sigma chapter at UConn after attending a conference sponsored by the Institute for the Study of Transfer Students, an offshoot of the National Orientation Directors' Association, in 2005.
"The conference is designed to discuss how we can best help transfer students," Sedotti says.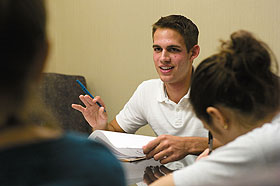 Jeffrey Ticehurst, a junior who transferred to UConn from Loyola College in Maryland, leads a meeting of Tau Sigma, the transfer student honor society.
Photo by Frank Dahlmeyer
"They're a unique, very diverse population, varying in age and experience," she says.
"Some transfers are from two-year schools, some from four-year private colleges, and others from four-year publics. Some are veterans. And there's not a lot of research out there. People refer to the transfer student as the 'forgotten student'."
Ticehurst and other Tau Sigma members have done much during their brief tenure to change that: they have sponsored three open house receptions for transfer students; organized as an official club, which gives them access to meeting rooms, a budget, and the right to hold fundraisers; and organized a mentoring program for other transfer students.
They also leaped at a suggestion from the the Department of Residential Life to create a transfer student special interest community on the fourth floor of Watson Residence Hall in Alumni Quadrangle. The floor can house up to 43 transfer students.
Additionally, the College of Liberal Arts and Sciences has appointed Sally Neal as its transfer advisor, putting her in charge of helping students who transfer into the College.
Neal says 260 of the 328 transfer students the College accepted last fall attended its summer orientation program, which provides one-on-one counseling.
And 19 attended the first FYE class for transfer students, which Neal offered in the fall. In January, a further 28 attended a second FYE class for transfer students.
Neal describes the new FYE classes as "a work in progress."
"The problem we're working to change," she says, "is that most transfer students don't believe they need an extended orientation course – they've already been a college student. However, they haven't been a college student at UConn. There are many social, academic, and administrative changes that occur in transferring from one institution to another, and we hope to ease that transition."
Since 2000, the number of transfer students has grown almost every year. In fall 2000, 572 transfer students enrolled at the Storrs campus, and another 171 joined the regional campuses.
By 2003, the number had increased to 666 in Storrs and 188 at the regionals; and in 2007, more than 700 students came to Storrs, while 210 arrived at the regional campuses.
Transfer students coming to Storrs, have an average GPA of 3.3; those at the regional campuses have an average GPA of 3.1.
Of last fall's cohort, 408 transferred from schools out of state, including 217 from four-year private universities, including NYU, Syracuse, George Washington University, and Northeastern.
Meghan Pyrch of Trumbull was one of the students who transferred from Northeastern, and she hasn't regretted her decision.
"It was the best decision I ever made," Pyrch says.
"Not only is UConn much more economical than my previous school, but I get a lot more for my money. I learn more in my classes and I think my degree will be worth more, which I hope will lead to greater success in my future career."