Since arriving at UConn three months ago, Christopher Earley, dean of the School of Business, has been consulting with students, faculty, and alumni on how to build on the school's strengths.
He recently sat down with David Bauman of the Advance to discuss his vision for the business school. This is an edited transcript of a longer interview.
You've spent many years in business education. Can you briefly describe your career?
I graduated from a small liberal arts college and eventually earned my Ph.D. in industrial and organizational psychology from the University of Illinois, Urbana-Champaign. I taught psychology, specializing in cross-cultural work.
In the early 1980s, I made my first research trip to China, examining work motivation across cultures.
Then I transitioned out of psychology into business. I joined the University of Arizona business school, and by the late-1980s, I would go to China for about two months each year, doing research on multinational work teams and people's capacity to adjust to new cultural environments.
You also taught at the London Business School and served as dean of the business school at the National University of Singapore?
Yes. I've been a professor for 22 years, and 14 of those were spent living outside the U.S.
How important are international issues to today's business student?
You can't really talk about business activities any more without thinking about business in a global context. We see this in the current sub-prime mortgage crisis; you see it in cross-border NAFTA relationships.
Markets are now global, and companies, to be successful, have to pay attention to global markets. That means managers have to be aware of the world around them, financial as well as cultural.
They are dealing with global financial markets, and they're selling goods abroad or leveraging talent from across the world – that requires cultural skills.
What drew you to UConn?
I saw a tremendous opportunity to create global connectedness for the UConn School of Business. UConn is very well known in Asia, and very well respected. I think business students today have to have a basic level of literacy about this global interconnectedness.
You've said it's time UConn's business school starts to think about itself not as a regional or national school, but as a global business school?
That means being tied to different parts of the world, keeping up with events and change.
For example, last week I was in New York City for the Student Managed Fund presentation, and I went into a department store where they were pricing things in euros.
The clerks may not have a university education but they now have to contend with international monetary policies to sell clothing.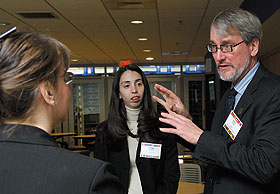 Christopher Earley, dean of business, speaks with Kathleen Bishop, left, and Stacey Witazek, both of UnitedHealth Group, after a breakfast meeting for Hartford area financial leaders at the Graduate Business Learning Center.
Photo by Peter Morenus
Today, people have to understand what a market is to exchange rates. This example isn't accidental or idiosyncratic – it shows us what's going to be a norm.
It used to be that a lot of people wanted to come to the U.S. to study business. Now, fewer students demand to be placed in companies in the U.S. Many want to go back home, because there's so much economic viability and growth where they came from.
How does a business school become global?
One way is to enhance international exchange relationships for students. Another is to leverage our strengths.
Our learning accelerators – edgelab, financial accelerator, innovation accelerator, Student Managed Fund – these experiential learning experiences are our trademarks. Take Edgelab for example.
General Electric has two full-time managers on site – not at GE, but at UConn Stamford, with our faculty and students working on relevant business projects for GE.
This is not your typical internship model where you go to a company, they hand you a project, 10 weeks later you leave, and they simply take what you've given them.
This is something students can't get at other schools. We offer a level of sophistication in experiential learning that weaves together real business activity with academic learning in a novel context.
Some people are saying that MBA degrees don't teach skills that companies need. Is it true?
I think a traditional, full-time, two-year MBA program is becoming an anachronism.
Students enroll with limited business experience, and they're not sure what they want to do. The problem is that companies want them to have very specific knowledge when they're hired.
In all organizations you start out at the lower levels as an expert in something, and then over time work yourself up the ladder to become more of a generalist and strategic thinker.
The problem is that they've been trained to be strategic thinkers at too early a stage.
The alternative is to pursue a master's degree in a specialization such as finance or accounting.
After five or 10 years in an organization, you can return for an advanced MBA that's intended for somebody who has already established themselves in a specific area but needs more strategic skills.