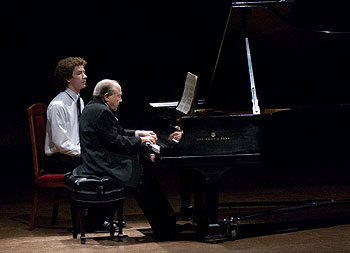 Pianist Menahem Pressler performs during the Alice Murray Heilig Memorial Concert in the Jorgensen Center for Performing Arts on October 21.
Photo by Frank Dahmeyer
October 29, 2007 ¦ Volume 26, No. 10
Holder of first endowed chair in mechanistic toxicology installed
Urs Boelsterli, a professor of pharmaceutical sciences and toxicology, was installed as the first Boehringer Ingelheim Endowed Chair in Mechanistic Toxicology on October 25. Read more...
UConn's Dempsey Hospital wins national quality award
The UConn Health Center's John Dempsey Hospital has been named to another exclusive group. The hospital has won a 2007 Premier | CareScience Select Practice National Quality Award for superior patient outcomes in both quality and efficiency. Read more...
Two faculty members named AAAS Fellows
Two UConn researchers will be made fellows of the American Association for the Advancement of Science (AAAS) at its annual meeting in Boston in February. The two are Sally McBrearty, a professor of anthropology in the College of Liberal Arts and Sciences, and Laurinda Jaffe, a professor of cell biology. Read more...
Aztec Empire focus of Sackler symposium November 2
"The Aztec Empire: Iconographies and Ideologies of Power," will be the focus of the 2007 Beverly and Raymond Sackler Art and Archaeology Symposium on Friday, November 2, at the Thomas J. Dodd Research Center. Read more...