Urs Boelsterli, a professor of pharmaceutical sciences and toxicology, was installed as the first Boehringer Ingelheim Endowed Chair in Mechanistic Toxicology on Oct. 25.
The endowed chair, established through a $1.25 million gift to the School of Pharmacy from Boehringer Ingelheim Pharmaceuticals Inc. in 2006, is the first such chair in the nation.
Mechanistic toxicology is the study of the processes and mechanisms underlying the toxicity of chemicals.
It explains how foreign compounds such as drugs, environmental pollutants, and industrial chemicals exert their potentially damaging effects on cells and tissues.
The field is widely regarded as the next frontier for drug development and medical breakthroughs.
It has the potential to greatly reduce the number of drugs that fail to meet FDA safety standards during the extensive clinical trial period, and to limit the number of drugs launched but later recalled because of rare but unpredictable adverse effects.
Boelsterli was selected after an extensive international search.
The Swiss-born researcher comes to UConn from the National University of Singapore, where he directed the toxicology program.
He brings more than 25 years of combined academic and industry experience to his new post, including a previous position as head of molecular toxicology for Switzerland-based Roche Pharma.
Boelsterli has published more than 80 peer-reviewed original articles and reviews, and is the author of a best-selling textbook on mechanistic toxicology.
He also consults for a number of pharmaceutical companies, and founded a consulting company focusing on drug-induced liver injury.
More than 600 medications approved by the U.S. Food and Drug Administration can inflict liver injury. In some cases, the injury is severe enough to require a transplant, and may even lead to death.
Though extremely rare, such reactions are unpredictable and may prompt drug withdrawals from the market and halt the development of promising future drugs, he says.
Boelsterli specializes in understanding the cellular and molecular mechanisms that cause this type of idiosyncratic drug-induced liver injury.
He is working to develop tests to help determine which patients are at highest risk for such adverse drug reactions and to identify chemical compounds that could protect mitochondria – regarded as key mediators of cell death – against these dangerous effects.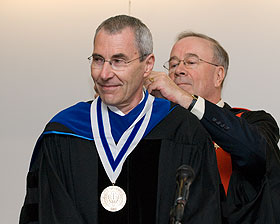 Urs Boelsterli, the first holder of the Boehringer Ingelheim Chair in Mechanistic Toxicology in the School of Pharmacy, has a medal placed around his neck by Provost Peter J. Nicholls during the installation ceremony Oct. 25.
Photo by Peter Morenus
"I was drawn to UConn by the excellent reputation of its toxicology program both nationally and abroad, and by the unique research and teaching opportunities presented by the creation of the first endowed chair in my field," Boelsterli says.
"Ultimately, our research could open new avenues to potential therapeutic interventions and aid in the design of safer drugs," he adds, "but that kind of progress will only be possible through close collaboration with other national and international research institutions and the pharmaceutical industry. Those are precisely the kinds of collaborations the Boehringer Ingelheim Chair will facilitate."
In addition to fostering multidisciplinary research collaborations at UConn and beyond, Boelsterli will develop a course in mechanistic toxicology, and will encourage faculty and students to present their research findings nationally and internationally.
"Attracting a researcher of Urs Boelsterli's caliber to our endowed chair in mechanistic toxicology – the first of its kind nationwide – raises our profile nationally and internationally and cements our standing among this country's elite schools of pharmacy," says Robert McCarthy, dean of pharmacy.
Dr. Peter Farina, senior vice president of development at Boehringer Ingelheim Pharmaceuticals Inc., says the company "has a long-standing commitment to academic excellence. It is important for us to support universities, so they in turn can develop highly trained and academically well prepared scientists.
"We also seek to support universities that pursue cutting edge science and provide scientists who will serve mankind through discovery and development of break-through medicines. We are convinced that UConn is the right place to accomplish this, and are pleased with the University's selection of Urs Boelsterli as the first professor to fill the Boehringer Ingelheim Endowed Chair in Mechanistic Toxicology."
The company's gift to the School of Pharmacy is the third significant donation the school has received from a major Connecticut-based pharmaceutical company in the past three years.
Boehringer Ingelheim Pharmaceuticals Inc. previously donated $250,000 to name a laboratory in the new Pharmacy/Biology Building that specializes in dosage forms.
And in 2004, Pfizer Global Research and Development, a division of Pfizer Inc., created a distinguished endowed chair in pharmaceutical technology.