A new UConn-generated report released recently in Washington, D.C., says the inability of millions of Americans to understand health care issues costs the U.S. economy between $106 billion and $236 billion annually.
According to the report, Low Health Literacy: Implications for National Health Policy, the savings that could be achieved by improving health literacy would translate into enough funds to insure every one of the more than 47 million people who lacked coverage in the United States in 2006.
That number is larger than the number of people with diabetes, breast cancer, obesity, and HIV/AIDS combined, the report says.
"Our findings suggest that low health literacy exacts enormous costs on both the health system and society, and that current expenditures could be far better directed through a commitment to improving health literacy," says the report's principal author, John Vernon, a professor of finance in UConn's School of Business and a Faculty Research Fellow with the National Bureau of Economic Research.
Vernon, joined by a team of health policy experts who helped prepare the report, presented the findings at a press conference on Oct. 10. Health literacy is defined as the degree to which individuals have the capacity to read, understand, and act upon basic health information.
"At virtually every point along the health care services spectrum," notes the report, "the health care system requires patients to read and understand important health care information. This information is dense, technical, and has jargon-filled language. Examples include completing health insurance applications, reading signs in hospitals and clinics about where to go and where to sign in, and following written and oral instructions in brochures and pamphlets, as well as prescription medication directions. The health care system itselfcan pose a serious barrier to appropriate health care."
The study found that 36 percent of all adults – 87 million people – have a below-average ability to read prescription directions, medical consent forms, and health insurance applications, and to follow written instructions in brochures or pamphlets.
Although ethnic minority groups are disproportionately affected by low health literacy, the majority of people with low health literacy skills in the United States are white and native-born, the report says.
"It's a very serious and costly phenomenon – not knowing how to navigate the health-care system," Vernon says. Being literate does not mean that a person is health-literate, he adds. "It is more difficult to read medical literature that is specifically health-related."
Using the U.S. Department of Education's 2003 National Assessment of Adult Literacy, which measured health literacy among adults in the country for the first time, Vernon and his team compared health literacy levels on the one hand and poor health outcomes on the other. Among their principal findings:
Among 242 million adults in 2003, two out of every five adult Americans have difficulty in obtaining, processing, and understanding the basic health information and services needed to make appropriate health decisions, the National Assessment of Adult Literacy survey showed. Nearly 90 million Americans – 39 percent of adults in the U.S. – are limited in their ability to understand medication and self-care instructions which, in turn, has a negative impact on health outcomes and the entire health system.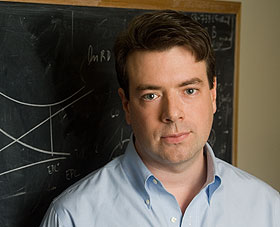 John Vernon, a professor of finance and principal author of a recent report on low health literacy as a significant national problem.
File photo by Peter Morenus
If left uncorrected, the future costs of low health literacy could range between $1.6 trillion to $3.6 trillion over the next 30 to 50 years.
Because of the spiraling costs of health care in the United States, public policy plays an important role in addressing low health literacy and its effects, Vernon says.
The report highlights two basic types of health policy interventions.
The first is elimination of disparities in health insurance coverage.
The second focuses on specific actions to improve the ways in which health insurers and health care providers relate to and interact with patients.
Suggested ways to improve health literacy through public policy initiatives include:
Offer incentives to health insurers and health care professionals to ensure that patients understand instructions;
Encourage public and private health insurers to provide translation and interpreter services, in addition to developing oral instructions and written handouts that can be understood at all reading levels;
Create federally funded health literacy centers to study innovative ways to improve health literacy practices and programs at the state and local level;
Provide federal support for education programs in the fields of medicine, nursing, and pharmacy that focus on health literacy skills among patients.
The UConn study was designed to yield a basic understanding of the effects of health illiteracy, says Vernon, adding that this year's study can be used as a baseline for future studies, in order to determine whether public policy initiatives – if adopted – are helping to improve health literacy.
"I hope the federal government will pay more attention to public health issues," he says.
Besides Vernon, the research team included Antonio Trujillo of the University of Central Florida; Sara Rosenbaum of George Washington University; and Dr. Barbara DeBuono, executive director of public health and government at Pfizer Inc., which subsidized the research.