Graduate students need to be prepared for success in their teaching and mentoring responsibilities, says Catherine Ross, director of Faculty and Teaching Assistant Programs in the Institute for Teaching and Learning.
Ross has co-edited a new book that offers ideas and techniques to those who train graduate teaching assistants.
She and Jane Dunphy of the Massachusetts Institute of Technology have published Strategies for Teaching Assistant and International Teaching Assistant Development: Beyond Micro Teaching.
The book includes the ideas of some 50 educators from a variety of programs throughout the U.S. that can help teaching assistants and international teaching assistants learn the skills to become effective teachers of undergraduates, Ross says.
"The book is for anyone who works with graduate students to support their teaching efforts at research universities," she says.
"You may work as a program director who serves as an institute-wide resource, responsible for developing fall orientation workshops or seminars for TAs.
You may be a department-based teaching expert – even a head TA who works with new TAs in a particular discipline.
Or you may be a person whose focus is international teaching assistants and you address language and cultural issues."
Graduate students "need to know how to present information, manage a classroom, lead a discussion and conduct lab sessions," Ross says.
"They also must learn to be comfortable in one-on-one interactions. Oftentimes, the TA will be the person the student meets with for help, and his or her success depends on that TA. Our commitment is to make sure that our teaching assistants feel prepared to do the best job they can do."
The first part of the book focuses on teaching assistant development. The section "Getting Started" includes exercises for new teaching assistants.
"These are workshops that we felt would be most effective with brand new TAs who really haven't had much teaching experience," Ross says.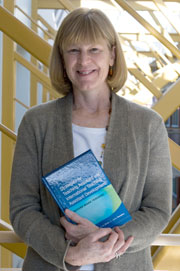 Catherine Ross, director of Faculty and Teaching Assistant Programs, in the Center for Undergraduate Education building.
Photo by Frank Dahlmeyer
"There is an exercise on identity and authority in the classroom, for example. TAs may struggle with establishing their authority in the classroom. They're almost the same age as their students, and that can make them uncomfortable."
An exercise on impromptu speaking skills is included.
"Teaching assistants are going to have to stand up in front of students and talk," she says.
"That's another thing they're fearful of."
Other exercises include engaging students in active learning, planning and facilitating a discussion, and teaching in lab settings.
A section on "Advanced Skills" includes exercises for the more experienced TA, including classroom management skills, online teaching and learning, group problem solving, and effective feedback.
The second half of the book is devoted to international teaching assistant (ITA) development. Here, there are exercises that deal with cultural adjustment and diversity awareness.
Ross says ITAs have "very specific needs. They're adjusting to the culture of higher education in the U.S. They're also thinking about their own cultures, how they were taught, and what their educational systems valued. There's often not a match there.
"For example, the idea that undergraduate students would interrupt a professor and ask a question is odd to many of our international students," she says.
"Many come from cultures where students listen to a professor and take notes, but would never question them."
Ross contributed an exercise that she uses with ITAs: A high school visit.
"I take them to E.O. Smith High School [in Storrs] so they can see an American high school. High schools in the U.S. are even more different than universities across countries. It helps ITAs understand where our students are coming from."