In many locations around the world, native names are being ignored, thus denying people's cultural pasts and histories, says Jim Enote, a Zuni tribal member, farmer, artist, and activist for the environment.
Enote was the keynote speaker Oct. 23 in the Student Union Theatre during the Eighth Annual UNESCO Chair and Institute of Comparative Human Rights Conference. The event's topic was human rights and the environment.
"Indigenous people around the world have always had names of places, but in many cases those names have all been eliminated and replaced with other languages, other terms, and words that are foreign to us," Enote said.
"In many cases, these are a direct denial of our past and history."
For example, Bear Spring in New Mexico is now called Fort Wingate, Enote said.
"What is embedded in my language is thousands and thousands of years of environmental monitoring," he added. "It's all part of these languages that are becoming extinct around the world."
The Zuni are indigenous Americans living in New Mexico.
Indigenous peoples have a lot to contribute to the dialogue about the environment and human rights, he said.
"Somewhere in the lives of society and cultures, we all want a piece of the pie," he said.
"We all want that security. We have always sought something better. Somewhere, from the time of our innocent birth to the time we grow up, we develop a sense of compassion, a sense of sharing. But what happens when our environmental resources are stretched?" he asked. "What about the ethics of helping each other, the ethics of sharing our resources? Which voices are being heard and which aren't?"
He said that human beings have "an urge to get something you don't have – to seek something better. But in that process comes about conquering and displacement. Many native communities around the world have been conquered and displaced."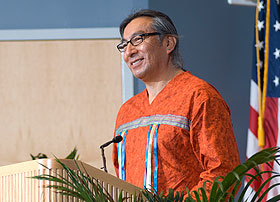 Environmental activist Jim Enote gives the keynote presentation during a conference on human rights and the environment in the Student Union Oct. 23.
Photo supplied by ITL Photo
Enote urged the audience to "respect each other's languages, respect where you come from. Everyone has something to contribute and no one should be left behind."
Another speaker, Pam Dashiell, a community activist in New Orleans, said the U.S. government failed to deal with Hurricane Katrina and its aftermath. She is from the Holy Cross neighborhood in the Lower Ninth Ward, where Katrina's storm surge broke the levee at the Industrial Canal flooding dozens of homes.
"There are people who want to return, and there hasn't been a concerted effort to bring them back or ever find them," she said.
Other issues, she said, are "the crumbling infrastructure, loss of housing, and toxic sediments."
Dashiell said, "With the help from universities, corporations, charities, and individuals, we were able to plan and implement a Center for Sustainable Engagement and Development. We are determined to come back. The 'green' rebuilding is going inch by inch."
She said it is a human right "to be protected from the storms and the stresses. She also said that without the help of ordinary people, recovery in the Ninth Ward wouldn't have come even as far as it has.
"We need to have fresh eyes on what exists. We need accountants, lawyers, doctors, engineers, and architects, and are appreciative of the help that has already been given," she said. "The eye-opener is that there is no government will to fix it; only the will of the people."
The conference was co-sponsored by the Office of the Vice Provost for Multicultural and International Affairs, the Office of the Vice Provost for Enrollment Management, and the Department of Residential Life.