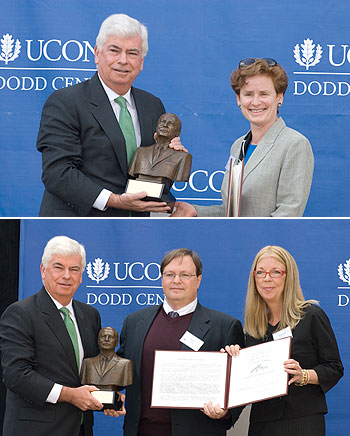 Senator Christoper Dodd, left, presents the 2007 Thomas J. Dodd Prize in International Justice and Human Rights to Pamela Merchant of the Center for Justice and Accountability (above) and Eric Rosenthal and Laurie Ahern of Mental Disability Rights International, on October 1.
Photos by Peter Morenus
October 9, 2007 ¦ Volume 26, No. 7
New consulting procedures adopted to comply with change in state law
A change in state law approved by the General Assembly last spring exempts consulting by faculty and members of a faculty bargaining unit from oversight by the Office of State Ethics when certain conditions are met. Read more...
Stem Cell Institute approved by Trustees
The creation of a Stem Cell Institute at UConn was recently approved by the Board of Trustees, marking an important milestone in the University's stem cell research efforts. Read more...
Dee Rowe given University Medal
Donald "Dee" Rowe, a member of the UConn community since 1969, was awarded the University Medal Oct. 2, one of the highest honors the University awards. Read more...
Torrington Campus undergoes renovation
The sweeping lawn and mighty trees at the Torrington Campus are no longer the only things that welcome visitors to the campus. Read more...