Eight students from France, Korea, India, and Colombia congregate in Akanksha Bajaj's room. Their discussion centers on the issues between India and Pakistan and between North and South Korea. But after a while, the conversation drifts from politics to apparel.
"We started talking about how, at one point in Korea, miniskirts weren't allowed," Bajaj says. "That escalated to discussing what clothing is acceptable for men and women in different cultures."
Chats like this are not unusual in Global House, one of UConn's living/learning communities.
Located on the fifth and sixth floors of McMahon Residence Hall, it brings together students from the United States interested in learning about global society and other cultures, and international students attending UConn.
The community opened this semester.
Establishing a global living/learning community was one of the recommendations of a task force created by Provost Peter Nicholls to develop strategies to help UConn students develop a global outlook.
"Our students need to know about the rest of the world, " says Morty Ortega, an associate professor of natural resources management and engineering who is director of Global House.
"You can send students across the ocean or across the borders, but not everyone is willing to go or can afford it. You can preach and you can teach, but there is nothing that will replace the direct relationship with another person."
Veronica Makowsky, vice provost for undergraduate education and regional campus administration, says, "Global House is an important step toward UConn's goal of a network of learning communities. UConn is a large university, but through learning communities – some with and some without a residential component – we can make the University individualized, supportive, and engaging."
Activities offered at Global House include international films, music events, lectures, and trips, many of which take place on the weekends. The academic component consists of a one-credit course taught by Ortega and Mark Oliver, a graduate student from Australia who is working on his doctorate in educational psychology.
"We want to teach students what global awareness is," Ortega says.
Students recently gave short presentations on a country of their choice. They have also discussed gender issues with a staff member from the women's center.
There are plans to examine other global issues, such as access to health care systems in the U.S. compared to other countries.
Oliver and Ortega also want to support students who are new to the college experience.
"In addition to the academics, we're also conscious that about 50 of the students are freshmen and we want to support them," Oliver says.
"So we integrate student success strategies, such as stress management and time management skills, as well as orientation to the campus."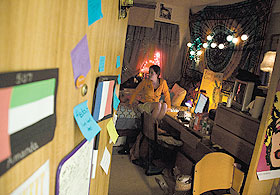 A student in her room in Global House, a new living/learning community in McMahon Residence Hall.
Photo by Sean Flynn
Depression and life stresses will also be discussed, Ortega says: "We're dealing with many students who've come here with just two suitcases and nothing else. They are away from their families, and may be depressed or down at certain times. We want to help them succeed."
In addition to excursions to Hartford, New York, and Boston – and places further away, like Puerto Rico – there are plans to take a shopping trip every week or so, Ortega says. "We want to enrich the lives of students, to acclimate them to different cultures, but also to help them live their everyday lives here."
Bajaj, a freshman, was born in India, lived for part of her life in Thailand, moved back to India, and has been living in the U.S. for the past seven years.
"Global House is like a home away from home," she says.
"I miss Indian food a lot, and especially Thai food, because for a big part of my life I grew up in Thailand. You can connect with the people who miss the same things as you do. And you can order Chinese food, Thai food, or Indian food and get together and talk about what it used to be like when you were in your country."
Maroun Bou-Sleiman, an exchange student from Université de technologie de Compeigne in France, says living in Global House has been an enriching experience.
"I've met people from all over the world," says Bou-Sleiman, who was born in Lebanon and moved to France.
"This is my first time in the United States. I'm used to Europeans, so meeting Americans is a good thing for me."
He says he would recommend Global House to incoming international students: "It's the best way to get rid of our stereotypes and meet people."
Lukas Szabo, an exchange student from the University of Warwick in England, grew up in Slovakia and now lives in Belgium. He is beginning a research project with Oliver.
Szabo, a political science and history major who has never conducted research before, says he is looking forward to his project, which deals with the concept of global awareness.
Oliver says, "We want to tap into academically driven students, so we developed a course called Global House Scholars. Lukas is the first student taking part in it. Students who participate in this academic pathway will look at a global issue or concept related to their academic major, and will take it to another level."
A mentoring component has also been formalized, where upperclassmen meet with some of the students regularly to discuss adjustment issues and problems faced by foreign students living in the U.S.