Leslie Loew, professor of cell biology and computer science and engineering, and director of the R.D. Berlin Center for Cell Analysis and Modeling, has been named to the Boehringer Ingelheim Chair in Cell Sciences at the Health Center.
Since joining the Health Center in 1984, Loew has established a broad research program characterized by innovations in technology applied to fundamental problems of cell biophysics.
"Cells are little chemical factories, and I am a chemist," he says.
Dr. Peter Deckers, executive vice president for health affairs, says, "Leslie Loew is one of the pre-eminent research scientists at the Health Center and in the entire UConn research community.
"His work and that of his team is recognized nationally and internationally by their peers to be at the cutting edge of cellular and molecular biomedical research. The promise of their research is almost unlimited."
Loew, who holds a Ph.D. in chemistry from Cornell, has devoted his career to understanding cells' biochemical workings.
Much of his work has been devoted to designing and developing voltage sensitive and fluorescent dyes capable of recording the electrical activity of the cell membrane. This membrane is the first point of encounter for external signals.
"We want to understand how living cells respond to external cues or triggers over time," he says.
In order to do that, he has helped develop innovations in microscope imaging.
"We had to upgrade our microscopes so we could watch the dyes," he says.
Loew was instrumental in establishing the Center for Biomedical Imaging and Technology in 1994 (later renamed the Center for Cell Analysis and Modeling).
The Center brought together sophisticated imaging equipment, such as confocal microscopes that allowed users to generate three-dimensional images, and, later, nonlinear optical microscopy, which used lasers to look into biological tissues with less damage to the cells and better resolution, depth discrimination, and light penetration.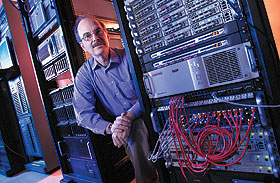 Leslie Loew, the new Boehringer Ingelheim Chair in Cell Sciences, with some of the servers that make up the Virtual Cell, which can mimic cellular events in three dimensions over time and space.
Photo by Al Ferreira
"We also had to upgrade our computers," says Loew, who helped develop the Virtual Cell, a computational modeling platform that includes sophisticated distributed software and hundreds of servers: some that compute, some that store information, and some with software that can handle the massive calculations necessary to model and simulate cellular processes.
The Virtual Cell is linked to the Internet, to serve as a repository of the models and simulations developed by scientists around the world.
Last year, Loew led a multidisciplinary team of scientists developing a complex grant proposal that resulted in a $12.3 million award from the National Institutes of Health.
The grant, one of the largest federal grants received by the Health Center, will fund research and development of tools and technologies to measure, manipulate, and model the function of biochemical networks in living cells.
Loew is also director of the new Technology Center for Networks and Pathways.
"Biological processes or functions, such as wound healing or muscle contraction, for example, depend on communication among genes, proteins, and cells through multiple interactions or pathways," he says.
"If we understand the pathways, we can begin to understand whether disturbances in pathways contribute to disease, and how normal function can be restored."
Loew's appointment to the chair was approved by the Health Center's board of directors in August.
The chair was renamed from the Chair of Clinical Pharmacology, which was held by James Freston until his retirement last year.
It is one of 32 endowed chairs at the Health Center.