Donald "Dee" Rowe, a member of the UConn community since 1969, was awarded the University Medal Oct. 2, one of the highest honors the University awards.
Rowe is a former head coach of Men's Basketball and retired development officer who continues to serve the Division of Athletics, its coaches, and student-athletes as mentor, fund raiser, and goodwill ambassador.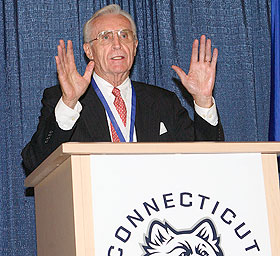 Dee Rowe, former head coach of Men's Basketball who remains active at the University, was presented with the University Medal during a dinner on Oct. 2.
Photo by Stephen Slade
The medal was established by the Board of Trustees to recognize individuals whose "life and achievements serve as examples of the University's aspirations for its students" and who "have had a significant influence on the University."
The first medal was awarded in 1983, to then Gov. John Dempsey.
Other winners include former U.S. Rep. Sam Gejdenson, former Speaker of the State House of Representatives Tom Ritter, and Peter McFadden, who was dean of engineering from 1971 to 1985 and then held a variety of administrative positions.
"I was so pleased to hear about Dee," says Peter McFadden, who also served as director of development for the engineering school.
"He has been just a constant presence in all parts of the University for decades. He's a genuine supporter of all things UConn."
McFadden and Rowe spent time together in the summer of 1985 as development officers working out of what is now the Tasker Admissions Building. At the time, McFadden says, the entire UConn Foundation was located in that area.
The medal, awarded only 28 times since its creation, was presented at the Annual Endowed Scholarship Dinner of the Athletic Development Fund by UConn President Michael J. Hogan and President Emeritus Philip E. Austin.
Rowe joined the UConn community in 1969 as head coach of Men's Basketball, and served in that position for eight seasons.
During his tenure, he led the Huskies to an overall record of 120-88 and was twice named New England Coach of the Year.
In his final five years on the sidelines (1972-77), UConn posted winning records in each season and had an 88-48 record.
Under Rowe, the Huskies advanced to the Sweet 16 of the 1976 NCAA Championships. The University also earned berths in the 1974 and 1975 National Invitation Tournaments.
In 1978, he founded the Athletic Development Fund and took the department from a zero base in 1978 to a level of $2 million in 1990-91, when he retired.
Today, the organization for which Rowe laid the groundwork raises $15.5 million per year.
"Without question, Dee is the most visible and successful advocate for this University – not just for athletics, for the whole University," says Tim Tolokan, associate director of athletics/licensing and athletic traditions.
"The biggest thing about Dee is his world," he adds.
"He'll tell you it's all about the kids and basketball. But it's about people, friendships, relationships, and life-long bonds."
In 1991, when Rowe retired from full-time University service, he became a special adviser to the Division of Athletics, a role that continues today.
"It's so easy to say nice things about Dee," says Ron Dubois, former associate athletic director for operations and a 30-year friend of Rowe's.
"His loyalty to his thousands of friends is unquestioned.
"If you look at his calendar," Dubois adds, "it's covered in blue – he uses a blue felt-tipped marker – but he can always make time for anything unscheduled if anybody needs something."