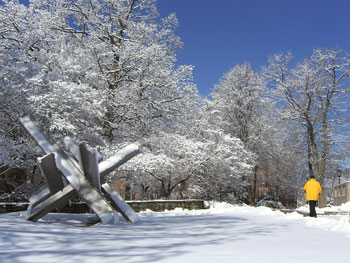 A wintry scene outside the Benton Museum. The sculpture is by Larry Mohr.
Photo by Sean Flynn
March 12 , 2007 ¦ Volume 25, No. 23
Task force recommends steps to improve teaching
The Task Force on Teaching, Learning, and Assessment has submitted a report to the Provost offering 12 recommendations intended to enhance teaching on the University's Storrs and regional campuses. Read more...
Provost briefs legislators on need for additional faculty
The University is asking the General Assembly for $22.5 million to hire 175 faculty over five years, with 35 new faculty members added each year during that period. Read more...
Nobel Peace Prize-winner to speak at law school graduation
Shirin Ebadi, winner of the 2003 Nobel Peace Prize, will be the Commencement speaker at the School of Law on Sunday, May 20. Read more...
Athletics recognized for degree completion, community service
The Division of Athletics has been recognized nationally for its student-athletes' success in completing their degrees and performing community service. Read more...