Two faculty members in the Neag School of Education's School Psychology Program – Melissa Bray and Thomas Kehle – are studying psychological techniques to help children with asthma in schools.
Asthma affects approximately six million children under the age of 18, and is on the rise.
Students with asthma have a high degree of absenteeism, are often restricted from physical activity, may have poor self-esteem, and can have problems with peer relationships.
"Asthma is one of the leading causes of missed school days for children," says Melissa Bray, an associate professor of school psychology.
"Since psychological triggers such as stress, anxiety, panic and depression can exacerbate asthma, mental health professionals such as school psychologists are often called upon to treat students."
She says that while psychologically-based treatments for children with asthma such as biofeedback and family therapy have been somewhat effective in improving lung functioning and quality of life, the results are overall inconclusive.
These treatments are also somewhat complex and time consuming.
"Interventions are needed that are practical to conduct in the school setting," she says.
In one study, Bray and Kehle, a professor of educational psychology and director of the School Psychology Program, examined the effects of journal writing – or "written emotional expression" – as an intervention.
"It's easy to implement and time- and cost-efficient," Bray says.
The research was conducted with children who have emotional and psychological triggers to their asthma.
"Some individuals' airways constrict during stressful situations," Bray says, noting that children with asthma may evidence anxiety and depression. The children were referred by the school nurse.
Four students participated in the study: One in elementary school, two in middle school, and one in high school.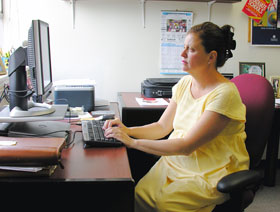 Melissa Bray, associate professor of school psychology, at her office in Gentry Building. Bray is studying psychological techniques to help school children with asthma.
Photo by Janice Palmer
The researchers collected data for about six months.
From baseline sessions through the follow up, the students' lung functioning was measured with standardized spirometry.
They were also given self-report and direct observational measures that assessed their anxiety, quality of life, and happiness, and kept a daily diary that included their intake of medication and use of inhalers.
During the "treatment" phase of the study, three times a week for approximately three weeks, participants were taken to the school psychologist's office and were instructed to write for 20 minutes about stressful and traumatic life experiences.
They were told that spelling and punctuation would not be evaluated, and that they couldn't write about the same subject more than three times.
Bray says the results of the study showed that lung functioning and quality of life/happiness were positively affected by the intervention, and anxiety decreased.
"Lung functioning and perceptions of quality of life were improved," she says. "And asthma attacks decreased, as did the use of inhalers." she says.
Bray has also conducted research on the use of yoga and relaxation and guided imagery with children who have asthma and has found similar positive results.
Bray and Kehle are licensed psychologists and Fellows of the American Psychological Association and the American Psychological Society.
Kehle is also a Fellow of the American Association of Applied and Preventative Psychology.