Shirin Ebadi, winner of the 2003 Nobel Peace Prize, will be the Commencement speaker at the School of Law on Sunday, May 20.
Ebadi, a lawyer, received the award for her work to advance democracy and human rights, especially the rights of women and children. She is the first Iranian and the first Muslim woman to receive the prize.
"We are delighted to welcome Dr. Ebadi as our keynote speaker for Commencement exercises," says Kurt Strasser, interim dean and Phillip I. Blumberg Professor of Law.
"Our graduates will have the opportunity to hear directly from Dr. Ebadi about her work defending the rights of citizens, in particular women and children, in her native country.
She has overcome monumental challenges, including death threats by the government, to further the cause of allowing citizens of Iran basic human rights.
"She is a wonderful role model for our graduates and lawyers everywhere, showing by her life's work what lawyers can do to make their societies more just," Strasser says.
Ebadi is the founder and leader of the Association for Support of Children's Rights in Iran.
The writer of a number of academic books and articles focused on human rights, Edabi has had several books translated into English, including The Rights of the Child: A Study of Legal Aspects of Children's Rights in Iran, published with support from UNICEF; and History and Documentation of Human Rights in Iran.
In 2006, Random House published Iran Awakening, Ebadi's memoir, co-written with Iranian-American Azadeh Moaveni.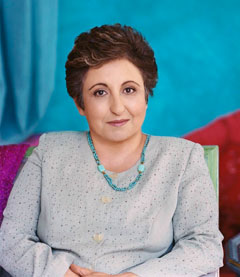 Iranian lawyer Shirin Ebadi will speak at the law school's Commencement.
Photo by Jeffrey Scales
As a lawyer, Ebadi has been involved in a number of controversial political cases.
She was the attorney for the families of the writers and intellectuals who were victims of serial murders in 1999-2000.
She worked to reveal the principals behind the attack on the students at Tehran University in 1999, when several students died.
Her work has led the Iranian government to imprison her on numerous occasions.
Using the tenets of Islam, she campaigns for peaceful solutions to social problems.
Ebadi earned a law degree from the University of Tehran.
From 1975 to 1979, she was president of the city court of Tehran, and was one of the first female judges in Iran.
After the revolution in 1979, she was forced to resign.
She also has taught at the University of Tehran.