"Work up your speed," Earl MacDonald tells a student at the piano in his jazz improvisation class. "It's good, but you have to get to where it flies."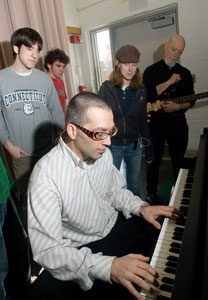 Earl MacDonald, associate professor of music, teaches a class on jazz improvisation. MacDonald has been recognized for innovative teaching.
Photo by Peter Morenus
MacDonald, an associate professor of music and director of jazz studies, has the five students in the class take turns playing solo.
Afterward, there's a short discussion about rhythmic options.
"Improvising is a very important part of what musicianship is," says MacDonald.
"It's something that's missing in a lot of people's training.
"It is a little intimidating when you're just starting out," he adds, "but it's important to do. You won't always be hidden in an ensemble. You will often be the focus. That's why I have my students doing solos."
A performer and composer who joined the UConn faculty in 2000, MacDonald leads the Jazz Ensemble and the Jazz Sextet.
In 2006, he received an award for innovation in teaching from the AAUP.
MacDonald helped bring about the University's decision to offer a bachelor's degree with an emphasis in jazz studies, beginning in 2003.
"I thought it was important from a recruiting standpoint," he says.
"It helps us attract students who are passionate about jazz, and I wanted to be able to compete with other schools in the region."
He also reduced the size of the Jazz Ensemble, which previously had up to 20 musicians, to half that number.
"The smaller size enables us to focus on the improvisational techniques and soloing," he says.
Real-world experience
MacDonald often rehearses his new works with his student ensembles.
"It's great for me because I get to hear my music played," he says.
"I can hear what subtle changes I might want to make, and it benefits the students because it's not often they get to work directly with a composer."
Laura Merwin, a music education major, says, "Not only is Earl a great teacher and motivator, he is also a great composer. He often brings his charts into rehearsal for us to play and perform. Rather than playing standard repertoire, this allows us to see another side of jazz, as well as another side of the jazz industry – composition."
Tom Wise, also a music education major, says MacDonald inspires him.
"He has been a great influence on my music-making in the way he approaches learning the jazz idiom," he says.
"But what inspires me the most is when we play his original compositions. He has a very good ear for compelling melodies and harmonies, and I'd love to be able to write like that myself."
Daniel Campolieta, who is also majoring in music education, says, "As his student and aspiring jazz pianist and composer, I have had many opportunities to work with him in ensembles, classes, and independent studies. Professor MacDonald … is constantly looking for avenues to improve the jazz department in ways that provide his students with the best, hands-on experiences that will prepare them for the real world."
The real-world experience MacDonald offers his students has included recording several CDs of both his and the students' new compositions and arrangements. The recordings have received critical acclaim.
Dean David Woods says MacDonald has been "masterful at incorporating his cutting-edge research interests into his teaching, and in so doing, capturing the imagination, interest, and passion of his students."
The big picture
MacDonald says he is proud of his collaborative projects. "It has broadened the perspectives of all the students," he says.
When he served on the Raymond and Beverly Sackler music composition committee, for example, he suggested that a piece be commissioned for studio orchestra, which combines a symphony orchestra with a jazz big band.
"I saw it as an opportunity to bring string and wind players – whose passions are classical music – together with the jazzers," he says.
He came up with the idea of commissioning Grammy award-winning composer Jim McNeely to write a studio orchestra piece.
"It was wonderful for the students to rehearse with him, and a great experience for the musicians to learn about each others' genres," MacDonald says.
The piece, "September Triptych," was performed by UConn students at Carnegie Hall and featured MacDonald as piano soloist.
"I try to make jazz as real for students as possible," he says.
"I don't want to tell them to prepare something just for the sake of a test. I'm thinking of the big picture. What happens when they graduate? Can they improvise? Will they get calls to play gigs?"
That's the idea behind Lu's Café, a collaboration with the School of Family Studies.
Lu's Café, located in the Family Studies Building, is a venue for weekly student jazz sessions.
The Thursday night events start at 9 p.m. and end at 11 p.m. No alcohol is served. Each week, it draws about 80 people.
"It gets my students out there doing what we should be doing – performing," MacDonald says.
"They get to hone their skills. I emphasize how important it is for them to memorize standard jazz repertoire, because in the real world, you don't show up with music stands. Everyone takes a shot improvising. It feels like a real jazz club and everyone is really into it."
MacDonald also has an ongoing collaboration with Jean Sabatine, professor of dance. "We had dancers improvise to my jazz sextet's music.
It was interesting seeing how the musicians responded to the students' dancing and vice versa. It's a nice interplay."
They performed at the Benton Museum, the Studio Theater, and Jorgensen Gallery.
"Any time students are exposed to a different kind of art," he adds, "it expands what they're doing in their own areas."