In celebration of its new chamber stage, on March 18, the Jorgensen Center for the Performing Arts will present an inaugural concert featuring performances by UConn faculty members.
The program, which begins at 1 p.m., will include violinist Theodore Arm, pianist Neal Larrabee, and cellist Kangho Lee; mezzo soprano Katharine Dams in duet with soprano Constance Rock; a puppet arts presentation; and a special appearance by Nafe Katter, emeritus professor of dramatic arts.
Tickets are $20, including dessert and coffee. For tickets call the Jorgensen Box Office Monday through Friday, between 11 a.m. and 5 p.m., at 860-486-4226.
The main auditorium of Jorgensen is a relatively large space, and the chamber stage will make it possible to present programs in a more intimate setting.
Jorgensen's full auditorium seats 2,630 people. When the chamber stage is used, the capacity will drop to 1,200.
The previous chamber stage was removed after the 1999/2000 season due to safety concerns.
Since then, chamber events scheduled in Jorgensen's season have been presented in von der Mehden Recital Hall.
The acquisition of the portable stage is taking place in stages.
Two organizations of supporters, the Jorgensen CoStars and Jorgensen's Circle of Friends, have raised more than $60,000 to purchase the stage and rigging. In the future, an acoustical shell will be added; fundraising is continuing for that.
"We want to do everything we can to make Jorgensen programs accessible to students and the public," says Trudy Nicholls, co-chair of the Jorgensen CoStars.
Since she came to UConn two years ago, Nicholls, the wife of Provost Peter J. Nicholls, has been working with the CoStars on projects to help Jorgensen.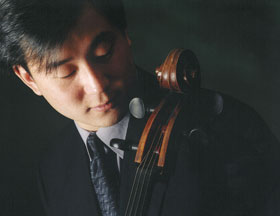 Cellist Kangho Lee is one of the faculty members who will perform at an inaugural concert on March 18 celebrating Jorgensen's new chamber stage.
Photo supplied by School of Fine Arts
The chamber stage, she says, "provides a way to put back some of the programming that Jorgensen hasn't been able to host for several years."
Nicholls says children's programs, puppetry, and jazz, as well as chamber concerts, are all programs that can benefit from a smaller stage setting.
The inaugural program on March 18 will showcase the variety of entertainment that can be presented on a small stage.
Deborah Walsh Bellingham, co-chair of the CoStars, says "Jorgensen is a magnificent theater. I am grateful for the caliber of the performances it brings to the community. It deserves our support."
Jorgensen director Rodney Rock says chamber music is primarily composed for small ensembles like a trio or quartet.
Historically, it was intended to be heard in small, informal spaces such as a salon or living room.
"An intimate setting for chamber music gives the audience the opportunity to hear and appreciate the music in more detail and in a more personal way," Rock says.
"Although you are hearing an ensemble performance, you are also aware of the individual lines of music being played and how they fit together. It's similar for children's programs as well: the smaller stage will allow youngsters to be closer to the action, to see the facial expressions of the actors, and to glimpse small details in the production that might be missed in a larger setting."