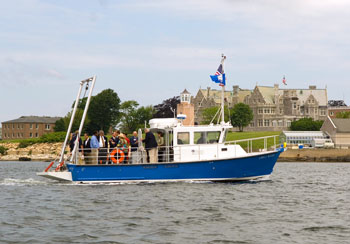 The University's newest research vessel, the R/V Weicker passes by the Avery Point campus on Long Island Sound shortly after its dedication.
Photo by Peter Morenus
June 19 , 2006 ¦ Volume 24, No. 33

Deckers reports budgetary challenges at Health Center
During the Health Center's Board of Directors meeting on June 6, Dr. Peter J. Deckers, executive vice president for health affairs, presented a $655 million budget for fiscal year 2007 that includes measures to realize about $7.25 million in savings and end the year in the black.
New research vessel named for former Governor
Marine scientists at the University on Thursday opened a new era of coastal exploration and education with the commissioning of a new research vessel, the R/V Lowell Weicker. The vessel is named in honor of former U.S. Senator and Connecticut Governor Lowell P. Weicker Jr.
Psychology department high in NSF research rankings
National research rankings recently released by the National Science Foundation (NSF) place psychology at UConn 16th in the country in total research expenditures, a measure of research funding, and 10th nationally in federal research funding.
Researchers discover earliest signs of dental modification at Mexican burial site
A UConn professor and her team of fellow researchers have excavated an Archaic human burial site in Michoacán, Mexico, dated between 2570 B.C. and 2332 B.C., that is the oldest burial site discovered in that region of Mexico.
More headlines...