Catherine Sonnenberg and Michael Henderson have can-do personalities and a similar work ethic.
Their work is important to them. They're good at it. And they enjoy helping people.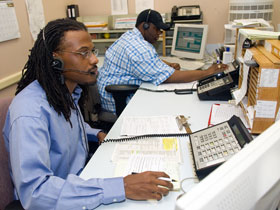 Husky Hero Michael Henderson is a Health Center telephone operator.
Photo by Peter Morenus
So it should be no surprise that the two were named Husky Heroes, the Health Center version of the Medal of Honor.
Sonnenberg, manager of the Surgery Module, has held a variety of jobs in her 29 years at the Health Center, ranging from patient services representative, to medical records, to clinical float staff.
Henderson, the "graveyard shift" – 11 p.m. to 7 a.m. – telephone operator, has been at the Health Center for five years.
His mother, Juanita Wright, is also a Health Center telephone operator of high regard.
"I believe I and my staff are doing important work," says Sonnenberg.
"Making sure everything in the clinic works can be stressful, but I enjoy it. I try to keep a smile on my face and I do the best I can each and every day."
Henderson says he likes being able to help people.
"Because I work 11 to 7, the majority of the calls are emergencies or problematic. I'm prepared for it. I like my shift because it's challenging and thought-provoking. I help people – many who lack medical knowledge – solve problems, rather than just transfer a call to the right department."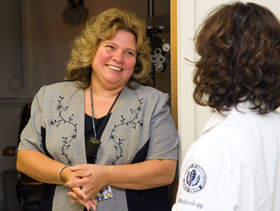 Husky Hero Cathy Sonnenberg, left, speaks with Jeanine Suchecki, an assistant professor of surgery at the Health Center.
Photo by Peter Morenus
The colleagues and co-workers of these Husky Heroes appreciate their efforts and attitude.
"We recently lost our manager in Internal Medicine, and Cathy has assumed these responsibilities on an interim basis, as well as continuing to run the surgery practice," wrote Marie Whalen, assistant vice president for ambulatory services, in a letter of recommendation.
"She has stayed late, worked at home at night to make sure there is no break in service, and that Internal Medicine continues to run smoothly. The word 'No' is not in her vocabulary."
Dr. Traci Gray in Ob/Gyn wrote, "Mike is consistently friendly and polite. His pleasant, energetic demeanor is especially appreciated in the wee hours of the morning. I recently needed him to page an attending physician and the outside phone lines weren't functioning. He took the initiative and used his personal cell phone to make the contact."
A notation in Sonnenberg's high school yearbook foreshadowed how her career would unfold: "I don't ask people what they can do for me," the note said, "I ask what I can do for them."