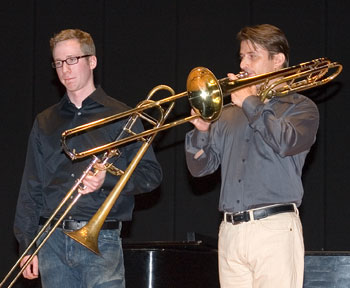 Alex Reicher, left, a student from Yale, gets tips on playing the trombone at a clinic with visiting musician Nitzan Haroz, during an all-day trombone festival at von der Mehden Recital Hall. Haroz has performed as a soloist world-wide, with the Philadelphia Orchestra, the New York Philharmonic, the Jerusalem Symphony, and the Israel Philharmonic Orchestra.
Photo by Dollie Harvey
February 6, 2006 ¦ Volume 24, No. 19

Census income stats misleading, study finds
The data used to determine how much aid towns receive from state government is misleading, because it fails to include capital gains income, according to a study just released by the University's Center for Population Research (CPR).
Trustees approve plan to reconfigure three schools
The Board of Trustees approved last week an academic restructuring plan that reconfigures the Schools of Allied Health and Family Studies and the College of Continuing Studies but strengthens the programs they offer.
Three faculty named Board of Trustees Distinguished Professors
Three faculty members, Janine Caira, Joel Kupperman, and Sally Reis, have been named Board of Trustees Distinguished Professors. The award honors faculty who have achieved exceptional distinction in scholarship, teaching, and service while at UConn.
New director to lead Health Center's diversity efforts
Carolyn Lyle has a simple message: building and valuing diversity makes the end product better. Lyle is the new executive director of the Health Center's recently re-named Office of Diversity and Equity.
More headlines...