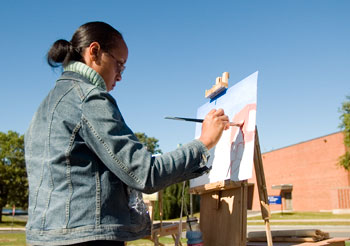 Tyanna Brooks, a senior majoring in illustration, paints outside the Fine Arts Building.
Photo by Jordan Bender
October 11, 2005 ¦ Volume 24, No. 7
University phasing outuse of Social Security numbers
The practice of using social security numbers as the primary identifier on dozens of forms, files, and records at UConn is being phased out, as University officials work to ensure that identity thieves will not find a treasure trove of information through University computers or records.
Health Center launches new magazine
A new University magazine, UConn Health Center, tells the story of the programs, innovations, and activities that have established the Health Center as a leader in the field of medical and dental education, research, and clinical care.
Economic human rights conference Oct. 27-29
An international conference designed to foster new research and debate in the emerging field of economic human rights, Economic Rights: Conceptual, Measurement, and Policy Issues, will take place on Oct. 27-29 in the Thomas J. Dodd Research Center.
University's board of trustees welcomes four new members
The University's Board of Trustees has four new members. Michael A. Bozzuto and Wayne J. Shepperd were appointed by Gov. M. Jodi Rell; Dr. Gerard N. Burrow is an ex-officio member as chairman of the Board of Directors of the UConn Health Center; and Salmun Kazerounian was elected student trustee.
More headlines...