A n associate professor of art and art history has partnered with a Pakistani author in London to create a children's book that will raise money to build progressive schools for impoverished girls and boys in Pakistan.
Cora Lynn Deibler, who teaches illustration at UConn, donated the illustrations for the 24-page children's book, Mo's Star, after author Mahnaz Malik discovered her work online and approached her about the charitable project.
Deibler's work has been showcased at the Norman Rockwell Museum and has appeared in print in The New York Times, The Washington Post, and regularly in children's publications such as Cricket, Spider, and The Weekly Reader.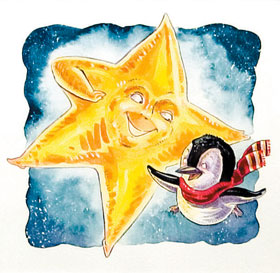 Mo's Star – the story of a small penguin who firmly believes he can reach the stars and, despite many setbacks, eventually does – is the first creative work to be sold through Project Reaching for the Stars, a new global effort created by Malik that was launched by Cherie Blair, wife of British Prime Minister Tony Blair, in London in June.
The project's first initiative is to raise funds for The Friends of the Citizens Foundation, a registered British charity that builds and runs primary and secondary schools in Pakistan's slum areas.
Nearly one-third of Pakistan's 152 million people live below the poverty line and 50 percent of the population are illiterate.
Malik, an international lawyer who was born and raised in Pakistan, conceived of Project Reaching for the Stars because she is concerned that without access to proper education, young Pakistanis may be targets for extremists.
"If these boys and girls don't grow up with access to a broad-based, progressive education, we are in trouble," Malik says.
"You can only imagine. It's a demographic time bomb. We could have tomorrow's terrorists on our hands."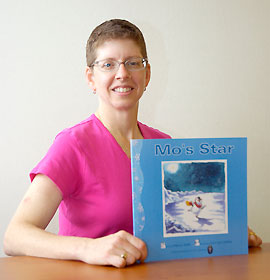 Cora Lynn Deibler, associate professor of art and art history, poses with her first illustrated book that will benefit schools in Pakistan.
Photo by Melissa Arbo
For example, she says, of the 27 million children of primary school age in Pakistan, 13 million are not attending school.
Malik says Deibler's passion for the project impressed her.
"Cora Lynn's personal contribution reinforced for me a positive image of Americans," she says. "I grew up in Pakistan, but here was Cora Lynn sitting in Connecticut with no connection to Pakistan, and she still opted to take this on."
Deibler says the political implications of her involvement with Mo's Star, not to mention the emotions typically accompanying the completion of an illustrator's first book, were eclipsed by her excitement for the global project.
"As an educator, what could be more perfect," says Deibler, associate head of the art and art history department in the School of Fine Arts.
Deibler adds that by American standards, it doesn't cost much to send a Pakistani child to school.
It costs $64,800 to build a Friends of the Citizens Foundation primary school and $10,806 to run one for a year. Mo's Star, available online, costs $8.99. Proceeds from the first 1,000 copies printed will cover one school's expenses for a year.
From character conceptualization to finished product, a children's book of this size typically takes an illustrator six months to a year to complete, Deibler said.
For additional details on Project Reaching for the Stars, go to www.reachingstars.com.
To purchase a copy of Mo's Star, e-mail Mehvish Khan at The Friends of the Citizens Foundation at Mehvish.Khan@FTCF.org.uk.