Not so long ago, "respiratory therapy" conjured up images of orderlies lugging around barely portable oxygen tanks. Today, it means certified and licensed specialists saving lives on medical rapid response teams and playing vital roles in routine health care delivery.
Respiratory therapy involves the treatment of breathing disorders, including chronic lung problems such as asthma, bronchitis, and emphysema, as well as more acute health problems related to injuries. Managed care, technology, patient satisfaction, and increasingly more professional practitioners have elevated its importance in the galaxy of clinical services.
"As technology and engineering changes in health care have occurred, the duties and responsibilities of respiratory therapists have expanded," says Ramona Prokoski, Health Center Respiratory Therapy clinical manager. "Technology contributed new equipment and ventilators, and even medicines deliverable via respiratory therapy."
As respiratory therapists, known as RTs, worked more frequently as participants with physicians and other health care providers, "the understanding of the RT's role was clarified. Other team members better recognized us for what we are and what we do," she says.
What they do is to help patients' cardiopulmonary function and health.
The respiratory therapist's response depends upon the patient's condition, illness or disease. In some situations, mechanical ventilation or oxygen therapy may be required. If an illness is involved, the RT may need to deliver aerosolized medication – such as albuterol – to the lungs or deliver a metered dose of medicine to the lungs through a "puffer."
Other conditions may require chest physical therapy, postural drainage, arterial blood-gas draws, or management of artificial airways – suctioning endotrachial tubes.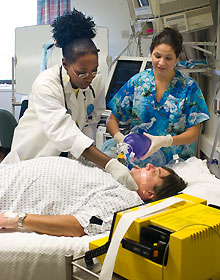 Photo by Peter Morenus
"There are a number of different diseases affecting lung health," Prokoski says, "and there are a variety of techniques to treat and manage these diseases or illnesses. The RTs are educated and trained to provide the most appropriate care."
The Health Center department comprises 16 licensed staff respiratory therapists as well as additional per diem therapists. Therapists work under the direction of a physician on all the hospital floors, from adult intensive care to Neonatal Intensive Care.
Clinically, therapists' roles have proliferated as well. Once normally found only in hospitals, RTs now work in doctors' offices and clinics, home health care agencies, emergency departments, urgent care and wound treatment centers and hospital satellite offices.
"Respiratory therapy plays an important part in treating our patients with a variety of illnesses," says Anthony Borda, associate vice president of clinical operations. "We believe that role can be expanded.
"Respiratory therapy is an integral part of the Health Center's new Rapid Response Team as well our statewide Neonatal Transport Team," he adds, "and we are considering ways to take better advantage of the RTs' increasingly professional capability in care assessment and management."