A $50,000 gift to the School of Fine Arts from the Lawrence J. and Natalie Portell Foundation has launched Dean David Woods' campaign to make UConn an all-Steinway campus.
The donation, received from the New Milford, Conn.-based foundation last month, will allow the music department to purchase a new, nine-foot Steinway concert grand piano for von der Mehden Recital Hall.
"The Steinway piano is the de facto standard for the world concert stage, so when you are training music students you want to train them on a Steinway," says Neal Larrabee, an associate professor of music who directs piano instruction for the department and will help select the new Steinway piano. "Because of the outstanding mechanics and tone of a Steinway piano, artistic limitations are lifted and pianists are able to use their imaginations to their fullest potential to produce naturally beautiful tones."
Larrabee says he envisions the new Steinway concert grand being reserved for the university's highest level of performances, including the annual Alice Murray Heilig Memorial Concert, guest performances held in conjunction with the Jorgensen Center for the Performing Arts, and degree recitals.
Woods says Steinway campuses "carry a certain prestige" and are a valuable recruiting tool for top music programs nationwide, including Oberlin College and the Juilliard School of Music.
"Some music students will not even go to a school without Steinways," he adds.
Currently, UConn has 83 pianos on campus, including 14 Steinways of varying sizes and ages. During the summer, the dean invited Steinway representatives to conduct an inventory and assessment of the music department's pianos. The inventory is still being completed.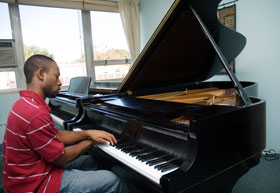 Jason Thomas, a sophomore majoring in piano performance, plays a Steinway in the Music/Drama Building. The music department hopes to raise money to make the University an 'all-Steinway' campus.
Photo by Melissa Arbo
Woods plans to rely primarily on donations to make UConn an all-Steinway campus.
He says he is encouraged by the success of the campaign the school launched earlier this year to buy new sousaphones for the marching band.
The new Steinway to be purchased for von der Mehden will cost about $90,000, with the remaining $40,000 coming from the music department's piano fund.
Representatives from the Portell Foundation visited the campus in person to deliver the donation.
Natalie Portell, who died two years ago, was a New York City ballerina in her youth and a patron of the arts. She intended the foundation – in her and her husband's name – to benefit local arts organizations, says Arthur Weinshank, chairman of the foundation's board.
The foundation first became familiar with UConn and the School of Fine Arts through board member Tim Riordan, a UConn alumnus.