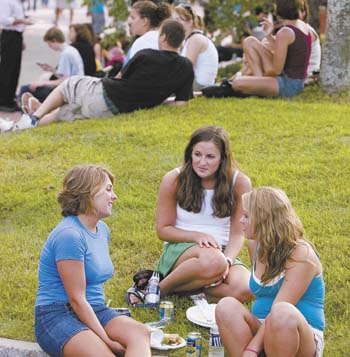 Kristin LeFebvre, left, Claire Vecchione, center, and Ashley Sleeba, all freshmen, chat during a campus picnic along Fairfield Way, one of the Husky WOW activities to welcome students.
Photo by Peter Morenus
September 7, 2005 ¦ Volume 24, No. 2
Provisions of UConn 2000 report will strengthen program, says board chairman
The chairman of the Board of Trustees has taken responsibility for developing a plan to implement the recommendations of the Governor's Commission on UConn Review and Accountability.
UConn opens doors to students affected by hurricane
UConn is offering students from Connecticut enrolled in colleges devastated by Hurricane Katrina the chance to study here for the fall semester, and is waiving all tuition-related charges.
Provost urges new students to be open to change
Students should expect the unexpected during their education at UConn, according to Provost Peter J. Nicholls. A UConn education is a preparation for life, and life is full of change, he said.
Dodd Center celebrating 10th anniversary
In the 10 years since its dedication by President Bill Clinton on Oct. 10, 1995, the Thomas J. Dodd Research Center has secured a place at the heart of the University's academic and cultural life.
More headlines...