Students should expect the unexpected during their education at UConn, according to Provost Peter J. Nicholls.
A UConn education is a preparation for life, and life is full of change, he said.
Nicholls made his remarks to freshmen and their parents during Convocation in Gampel Pavilion on Aug. 26, the first formal occasion of the academic year. This year's freshman class of 3,250 was selected from nearly 19,000 applicants, and includes 115 valedictorians and salutatorians.
President Philip E. Austin and other members of the administration, members of the Board of Trustees, deans, and faculty in full academic regalia attended the event, which was led by Keith Barker, University Marshal.
"Education at UConn should introduce you to the unexpected," Nicholls said. "That may be the greatest lesson we have to teach. We want you to explore subjects you never heard of, discover ideas you never imagined."
Welcoming students in the Class of 2009, Nicholls pointed out that he too is a newcomer.
"I am delighted to be arriving at a moment when the University is making the transition from good to great," he said.
During their first day on campus, Nicholls said, freshmen are "poised between the past and the future."
The transition students must make from school to college and from home to residence hall is "momentous" and, with that transition, students take on new responsibilities. "You will take charge of your own life," he said. "That's the difference between the child you were and the adult you are."
Nicholls urged students to make wise decisions. Their decisions, he said, will make the difference between whether their time at UConn is a "chain of wasted hours or a continuum of opportunities seized that lay the basis for a happy and fulfilling future."
Addressing both the first class of students entering the University under the new general education requirements, and their parents, he said the new general education curriculum emphasizes learning for life.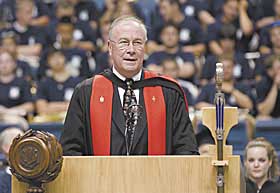 Photo by Peter Morenus
"For many parents," said Nicholls, "general education is synonymous with the old distribution requirements, which involved taking a course or two from a number of categories."
Under that system, he said, "all you feel you've done is checked off the necessary boxes."
The new general education system at UConn is different, Nicholls said. It is not just about passing tests, but "provides opportunities and challenges, just as life does and will."
President Philip E. Austin urged the students to use and value freedom of expression, which he described as "one of the defining elements of a great university."
Our predecessors worked hard to protect freedom of expression and ultimately freedom of thought, he said.
"Freedom breeds creativity and creativity creates new knowledge," and these are the foundation of democracy, he said.
But he cautioned that freedom of expression must be used wisely. "Freedom is not license, speech is not noise," he said. "Freedom is not an entitlement but a sacred trust."
Sarah Domoff, a senior who is this year's president of the Undergraduate Student Government, encouraged the freshmen to participate in student organizations.
"If you don't like something here, you can change it," she said. "My most rewarding experiences have been making changes to student life."
As families prepared to head home, Nicholls had some closing remarks.
"Your parents can be confident when they leave that they are leaving you in good hands," he told the students. "Your own."