When the UConn Marching Band paraded onto Rentschler Field last Thursday night for the Huskies' first football game of the year, there were nearly 300 musicians wearing the Blue and White.
It was a record number of members for the band; a number that provides a sound that should thrill ticket-holders. And it's a number that nearly raised the roof of the Harry A. Gampel Pavilion, when the band played several pieces during Convocation on Aug. 26.
"It's a good band," says David Mills, the band's director. "We can stay on the field with anyone."
When Mills first took leadership of the band in 1990, becoming the fifth director in the group's 57-year history, there were only about 135 members, he says. In 1997 it started a steady climb, hitting 200 members in 2000, and it has continued to climb ever since.
"Two hundred is a significant number," Mills says. "It really changes things. It's a different feeling. It's not such a personal affront to the other musicians if something doesn't go right, and there's more willingness on their part to sacrifice for the group, like practicing or playing in the rain. It's a magic figure."
Brian Coffill, a junior who is one of the band's section leaders, says "bigger is definitely better. Rentschler Field is a difficult place to fill up with sound. With a larger band, we're more powerful."
With the advent of Division I-A football, the numbers have continued to grow.
And as applications to the Storrs campus soared, and the admissions office became more selective, the band, too, benefited.
"There are more students coming to Storrs every year who are in the top 10 percent of their high school graduating class, and that's where you get a lot of excellent band members," Mills says."They tend to be good students, involved students."
They also tend to be solid musicians.
Mills can talk about the UConn Marching Band until he is Husky blue in the face: how hard the musicians work, how well they perform, their academic credentials, how organized they are.
"These kids work very hard, much like the athletes on campus," he says. "People may not notice, but playing in the band is very physical. On game (football) days, we're on the bus at 7:30 a.m., practicing at 9 a.m., performing on-field before the game, playing throughout the game, and performing a 10-minute show at halftime – lots of movement, creating formations, all the while carrying and playing an instrument. It's a long, strenuous day."
And, unlike some fans, they stay until the end, whether the game is close or out of reach, whether it's in the pouring rain or driving snow. They also hit the field and play after the game, while the fans shuffle out. Throw into the mix that it's often very uncomfortable – early in the season it's too hot in their uniforms, and later in the year it's too cold.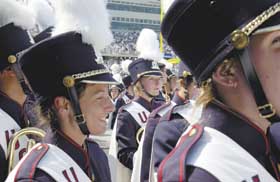 Photo by Daniel Buttrey
"They practice for at least two hours, three days a week and on Saturdays, keep up with their academics, and many of them are involved in other organizations," Mills says. Members also keep busy organizing trips, preparing brochures, updating their extensive website, giving demonstrations, and marching in parades. Nearly 60 members also volunteer as pep band members for men's and women's basketball. Overall, the band performs about 100 times a year.
The work is largely a labor of love. Band members receive just one credit for their efforts, and they do not earn a stipend.
"What they get for being in the band is being in the band," says Mills.
In fact, since 2000 the band has increased in size to the point where Mills is getting a bit nervous – they may top 300 members this year, which is just about the point where adding any more would create "gridlock" on the football field. It also raises the specter of a future that includes tryouts and telling some students they didn't make the cut.
"Ohio State's got something like 38 alternates, who step in when somebody gets injured or is out for some other reason. That just doesn't happen a lot in bands," Mills says.
In the Big East Conference, Mills says, West Virginia University has the largest band with about 400 players, and conference newcomer Cincinnati has about 300 members.
The larger number of players in the UConn band is beginning to pinch its budget, most of which comes from the Division of Athletics, with support from the School of Fine Arts.
"With 275 members, we fill five buses. One more bus gives us a total of 330 seats. Then there are uniforms and meals," he says, ticking off the expenses. "Our uniforms are in year 12 of an eight to 10-year life expectancy. Then there's the fact that every game is an away game for us (because Rentschler Field is off-campus), and it just eats that budget up."
There is also a need to constantly refurbish or buy new instruments. To that end, the band, through the UConn Foundation, is seeking to raise $300,000. Donations may be sent to the Foundation, for the Marching Band Special Campaign.