Between 50 and 75 percent of boys and girls at sports camps are significantly dehydrated, according to research by Douglas Casa, an associate professor of kinesiology.
Twenty-five to 30 percent of the campers Casa studied showed signs of serious dehydration, putting them at increased risk of heat-related illnesses, he said.
The campers were dehydrated despite the availability of water and sports drinks, frequent breaks, and coaches' encouragement to stay hydrated, he said.
Casa led studies at soccer and football camps in Connecticut and Pennsylvania during the summers of 2003 and 2004.
The campers, ages 9 to 16, also suffered significant dehydration despite an overwhelming display of knowledge and positive attitudes about healthy hydration habits, Casa said.
"Most campers thought they were doing a pretty good job of staying hydrated during the day, but their thirst level during practice was not a good indicator of their hydration status," he said. "Obviously, there's a gap between their knowledge and their actual behavior."
During the 2004 study, Casa assessed campers' hydration knowledge and attitudes as well as behaviors for the first time. In questionnaires they completed, most rated the need to stay hydrated and drink more fluids as they increased their exercise intensity as "extremely important".
During the course of two summers, Casa studied a total of 128 children at the camps, analyzing urine samples collected before and after their exercise sessions. On average, the campers took part in three to four hours of structured exercise each day for four days.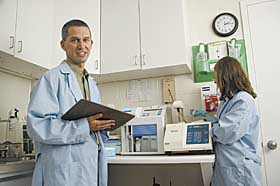 Photo by Melissa Arbo
This summer, Casa returned to soccer and football camps in Connecticut to work one-on-one with campers at the end of each day to ensure better hydration.
"They can't just rely on their thirst," he said. "They need an actual hydration strategy, a plan.
"We're trying to keep the campers well-hydrated so they won't have athletic performance issues or put themselves at risk for heat-related illnesses," he added. "We also want them to have better hydration strategies in hand going into their high school and collegiate athletic programs, which will be even more rigorous and where the consequences of dehydration could be even greater."
Casa has presented his findings at the American College of Sports Medicine and National Athletic Trainers' Association annual meetings. His studies also have been published in supplements of Medicine & Science in Sports & Exercise, the official journal of the American College of Sports Medicine, and the Journal of Athletic Training.
The 2003 and 2004 studies were funded by the National Safe Kids Campaign.