Latino faculty and staff at the University have a new resource.
The Association of Latina/o Faculty and Staff (ALFAS) has been established to advocate for the Latino community on campus, represent the needs of individuals and the community, promote awareness, and network with Latino associations outside the University.
"There are a number of Latinos on campus, but we don't know each other," says association president Morty Ortega, assistant professor of natural resources management and engineering. The association is designed to remedy that.
Lunchtime meetings take place on the last Wednesday of each month at the Puerto Rican and Latin American Cultural Center (PR/LACC). Business is conducted in English and the association is open to anyone interested in the Latino community and culture. A small membership fee will be established later this year.
The association was founded last year, with support from the Office of Multicultural and International Affairs. By-laws were drawn up and officers were chosen through e-mail elections that took place in February. Members of the board are: Ortega; Mayté Pérez-Franco, director of PR/LACC; Eliana Rojas, assistant professor-in-residence of curriculum and instruction; Robert Yañez, residence hall complex coordinator; and Ana O'Donoghue, senior admissions officer.
"Having an official association will strengthen our ability to advocate for larger social and economic issues that impact us," Ortega says.
One of the problems the Latino community faces, he says, is that it comprises a number of different constituencies based on place of origin. "It will be a great enrichment to get to know each other," he says.
Pérez-Franco says Latinos are underrepresented among employees at the University. She says 2.9 percent of professional staff, 3.3 percent of faculty, and only 1 percent of managers and executive staff are Latino, compared with 10.6 percent of the state population and 14 percent of the population nationwide. She notes that nationally, Latinos are the fastest-growing minority population.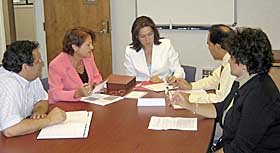 Photo by Cindy Schaefer
The association will work to promote the representation of Latinos at every level, encouraging more faculty and staff, graduate students, who will become the next generation of educators, and undergraduates to come to UConn.
"Latino participation in higher education is generally higher in urban areas, including community colleges," says Pérez-Franco. "Latinos are underrepresented at research institutions, especially on rural campuses like Storrs."
She says she hopes the organization can make a difference at UConn: "It is the perfect avenue for us to be involved in change, for example by promoting Latino representation on search committees."
Says Ortega, "When Latino faculty or staff apply to UConn, one of the things they look at is whether there is anything that can give them support. PR/LACC provides some support for faculty and staff, but a lot of the services are student-centered. The association will provide additional support that faculty and staff are looking for."
Pérez-Franco says that increasing the numbers and visibility of Latino professionals at the University will in turn help increase the representation of Latino students at the University.
"When Latino parents come to the Center during the admissions Open House," she adds, "it's great for them to see people who speak their language and know their culture. They come seeking that."
The organization also hopes to network with other Latino groups, such as the Connecticut Association of Latinos in Higher Education, and to address statewide, national, and international issues affecting the Latino population.
The association will hold its first annual luncheon on Wednesday, Sept. 28, at the Alumni House Great Hall at noon. There is no charge and all are welcome. Please RSVP by Sept. 23 to 860-486-1135 or cindy.schaefer@uconn.edu.