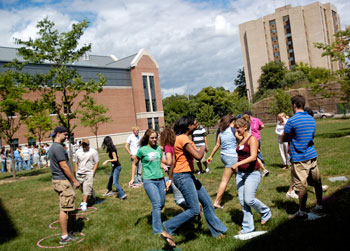 Incoming freshmen at the Waterbury Campus participate in an icebreaker activity during orientation Aug. 24. This year's new student orientation included tours of the city, part of a growing focus on ties between the regional campuses and local communities.
Photo by Melissa Arbo
August 29, 2005 ¦ Volume 24, No. 1
UConn to benefit from federal transportation funding
The federal transportation bill signed into law Aug. 10 by President George W. Bush includes more than $6 million earmarked for UConn-related projects.
Events planned to promote gen ed awareness
To promote awareness of the University's new general education requirements, which went into effect at the end of last semester, University President Philip E. Austin and Provost Peter J. Nicholls have declared September General Education Month.
Regionals include community in orientation
Andrew Fuchs is representative of many of the freshmen who come to UConn's Waterbury campus: young, fresh-faced, mildly shy and, since he is not from Waterbury, uncertain what lies beyond the walls of the campus he is about to attend.
U.S. Constitution to be topic of discussion, Sept. 19
International, national, and local perspectives on the United States Constitution and democracy will be the focus of a day-long event on Sept. 19 at the Storrs campus.
More headlines...