When Jessica Woods, a Montville High School student, heard about the new Marine Scholars program for high school students at the University's Avery Point campus, "it was like, boom! That's what I wanted," she said.
Woods and two other high school seniors who have a lifelong fascination with the coast, the sea, and marine life will research their interests this fall, working closely with UConn faculty and staff in the marine sciences department and its maritime studies program, part of the College of Liberal Arts and Sciences. They are the second group of students chosen from shoreline-area high schools to participate in the year-long program.
They began their year as Marine Scholars in the spring, attending lectures and seminars at Avery Point. This fall they will be paired one-to-one with research faculty to pursue their own projects.
Woods' passion is plankton. "I'm interested that something so small can affect your environment so much," she said.
"She likes plankton, we like dolphins," said Charisse Laughery, also a senior at Montville, who, along with Lindsay Barr from Lyme-Old Lyme High School, completes the current Marine Scholars class.
"Since I was two I liked dolphins, humpback whales – the big mammals," Laughery said. "When you're in the ocean, to think there's something that big beneath you, and you can't see it …"
Lindsay wants to study marine mammal behavior. She has visited the Caribbean island of Curaçao with her family, where she took a course taught by dolphin trainers. And her favorite talk in the spring lecture series at Avery Point was a presentation by the director of the Dolphin Communication Project at Mystic Aquarium and Institute for Exploration, Kathleen Dudzinski, a UConn alumna.
The Marine Scholars program, the brainchild of Joseph Comprone, associate vice provost for the Avery Point campus, began last year as part of an initiative to cultivate closer ties between the campus and the community.
Marine Scholars candidates are nominated in their junior year by teachers and high school guidance counselors. The program draws from high schools that include Fitch (Groton), New London, Ledyard, Stonington, and Waterford.
All of this year's Marine Scholars have grown up near the ocean. Woods, whose father is in the Navy, has moved 17 times but always has lived near the water. Laughery has lived in coastal Washington state, Virginia Beach, and near the coast in Connecticut. Barr has lived a mile from the beach in Old Lyme since she was in third grade.
To be eligible for the Marine Scholars program, students must write an essay and provide recommendations. Those who are selected are asked to attend a public "Coastal Perspectives" lecture series in the spring of their junior year and are invited to participate in seminars at Avery Point.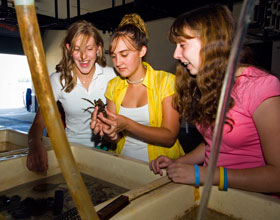 Photo by Daniel Buttrey
"It was scary at first – all of those people we didn't know," said Woods. "But they were thrilled to see us here."
"Every one of the professors I talked to were very willing to work with us," said Barr.
During the summer, the Marine Scholars took part in a three-week Summer Marine Studies Program run by Project Oceanology, where they worked in small research teams and participated in an overnight research expedition to Long Island.
This semester, they will be matched with a faculty mentor at Avery Point, who will direct their research and guide them in completing a college-level project.
"We have faculty who do very visible and prominent research," said Comprone. These include specialists in coastal ecology and a variety of oceanographic and basic science fields, as well as maritime studies experts whose scholarly work focuses on historical, literary, political, and economic perspectives.
The Marine Scholars program reflects the recent changes in the Avery Point campus, which is increasingly recruiting four-year liberal arts and sciences students. Until about five years ago, the campus's undergraduate program was limited to two-year students, who transferred to the University's Storrs campus to complete their degrees. Now, 125 of its 800 total students are four-year undergraduates at Avery Point, choosing from majors such as coastal, American, or maritime studies and taking marine science courses.
Although all of this year's Marine Scholars are interested in science, participants may also choose to work with faculty mentors in history and English.
"One of the perceptions is that we only do marine science," Comprone said, adding that the humanities and social sciences are well represented on campus, and those faculty members, too, have a strong interest in the sea.
"We're filling a niche that's there," he said, "and that niche is defined by the ocean and the coast."