How do science graduate students and postdoctoral fellows learn the ropes for finding an academic or industry job, writing grants, and setting up a laboratory?
The practical aspects of career preparation are often overlooked, or it is assumed that students and postdocs will figure it out on their own, said participants in an institute at UConn this summer designed to address these issues.
The Department of Molecular and Cell Biology in the College of Liberal Arts and Sciences hosted one of the few workshops in the country to teach microbiology graduate students and postdocs about career paths, grant writing, and how to prepare resumes and scientific papers.
The summer institute, sponsored by the American Society for Microbiology and partly subsidized by the National Institutes of Health and the Burroughs Wellcome Fund, began as a pilot program at the University of Wisconsin. Now in its second year at UConn, the institute will be held here again in 2006. It is organized by molecular and cell biology professor Kenneth Noll.
"The need is there," said Irene Hulede, manager of the Student Programs and Education Department at the American Society for Microbiology. "A lot of students are saying they don't get this kind of preparation."
Melinda Lowry, an observer at the institute for The American Physiological Society, said "Our grad students and postdoctoral fellows are not getting quite the training they need."
The American Physiological Society is preparing to offer online career help to students. "They want the straight scoop about career options," Lowry said. "What would I do at a medical institution? At a biotech firm? At a small liberal arts college?"
Students also need to learn people and management skills, and how to set up a lab and manage it, she said.
The 28 graduate students and six postdocs who attended the UConn institute were a diverse group, coming from universities as far away as Texas, California, and Puerto Rico. The presenters included faculty experienced in grant writing and journal editing; a researcher from the Centers for Disease Control; a grant program officer from the National Science Foundation; and biotechnology industry researchers.
Students learned about career options ranging from academia to industry to practicing patent law.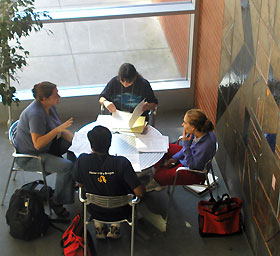 Photo courtesy the American Society of Microbiologists
"We learned practical information … you don't hear it otherwise," said Teresa Large, a fifth-year graduate student from Michigan State University. She was especially impressed by interactive teaching techniques taught by Thomas Terry, UConn associate professor emeritus of molecular and cell biology, and by strategies suggested by female scientists for getting an academic job.
"For me it was important that there were women who talked about that," she said.
Jeffrey Gardner, a graduate student from the University of Wisconsin, said he would recommend the UConn institute to his lab mates for the training in grant writing.
"I learned to write the grant even if you're not ready – it focuses your thinking," he said. "Lab time is not contemplative time. When you sit down to write, you think about it."
Zehra Tuzun Guvener, a postdoc from the University of Washington at Seattle, called the institute "a good, intensive insight. It was a terrific hands-on experience."
The institute is still a prototype and will be expanded, according its late founder, Robert Kadner, professor and vice chair of microbiology at the University of Virginia, who died recently. He had taught several sessions at the institute here, commenting that "microbiologists like to visit places where there are strong programs."
Hosting the institute was an opportunity to showcase the facilities of the Biology/Physics Building and the South Campus residences, where the students stayed, said Noll.
Other UConn session leaders were molecular and cell biology faculty Joerg Graf and David Benson.