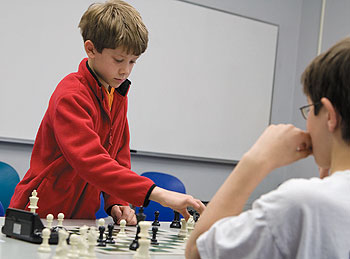 Students compete at chess during a state scholastic championship for grades K-6. The event was sponsored by the School of Engineering with the Connecticut State Chess Association and the UConn Chess Club. Photo by Frank Dahlmeyer
Photo Extra
Jason Irizarry, second from right, an assistant professor of curriculum and instruction, listens as students from Windham High School discuss Project Fuerte, a research initiative in which the students learn about structural inequalities in education. The students gave a presentation in the Student Union Theatre on March 26. Photo by Jessica Tommaselli
April 6, 2009 ¦ Volume 27, No. 26
Additional 2 percent of current state appropriation rescinded
Gov. M. Jodi Rell has rescinded another 2 percent from the University's current state appropriation, bringing this year's total rescission to 5 percent, the maximum the governor is permitted by law. Read more...
Three science students win Goldwater scholarships
Three students in the College of Liberal Arts and Sciences have won prestigious Goldwater Scholarships to further their studies toward doctorates in the sciences. Read more...
University adopting new policy on graduate student tuition
The University will implement a policy of charging 60 percent of allowable in-state tuition for graduate students to grants that support the stipends for students assigned to them. Read more...
Scientists receive state funds to advance stem cell research
Eleven UConn scientists have received state-funded grant awards totaling $5.4 million from the Connecticut Stem Cell Research Advisory Committee (SCRAC) to advance embryonic and human adult stem cell research in Connecticut. Read more...
More headlines...

Multimedia...

RSS Feed of the UConn Advance

News Links

UConn News | UConn Health Center News | UCONN Magazine Athletics News

How To...

Suggest a story idea: please send e-mail to advance@uconn.edu, with "Story Idea" in the subject line. Please give as much notice as possible, and at least two weeks. Requests will be considered based on relevance to a broad audience and the availability of resources.

Have an event listed in the Advance Calendar section: please enter it online at events.uconn.edu at least two weeks prior to the date of the event. Please note that the Advance Calendar contains only events occurring during the week beginning with the date of publication.

Request permission to re-use a story or photo: please send e-mail to advance@uconn.edu, with "Re-use Request" in the subject line.

Make a change to the mailing list, please send e-mail to advance@uconn.edu, with "mailing list update" in the subject line. Please note that the Advance does not maintain separate mailing lists, but uses the databases maintained by the human resources departments at Storrs and at the Health Center. If you do not have access to e-mail, please send your request in writing to Advance, University Communications, 34 North Eagleville Road, Storrs, CT 06269-3144, or by fax to 860-486-2063, or call 860-486-3530.